Spa-Francorchamps
Tiago Monteiro wins two TCR Benelux races in Spa-Francorchamps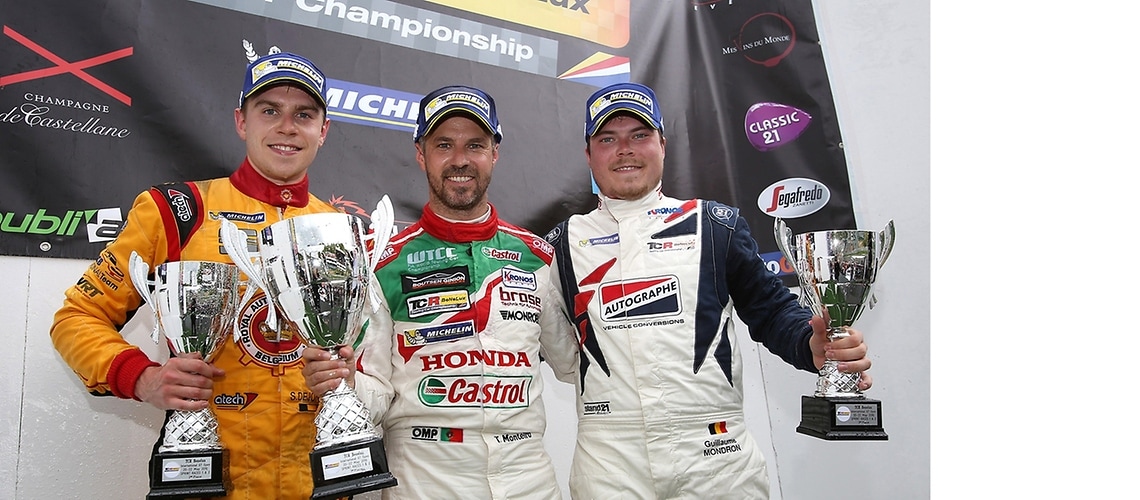 Spa-Francorchamps, 05-21.2016
The Portuguese pilot managed to capture top spot on the winner's rostrum in the first TCR Benelux race on Belgium's famous Formula 1 track Spa-Francorchamps.
Fans were able to vote for the starting lineup in the first qualifying race using the "Make the Grid" system. Tiago Monteiro and his teammate Stéphane Lémeret, who together drove a Honda Civic TCR in the Ginon-Boutsen team, started from pole position thanks to their many fans.
"My teammate dropped a place after the start and we were around 4 seconds behind the leaders when I took over at the wheel. I managed to reduce the distance to my opponents and then overtake them before opening up a gap that enabled me to take the checkered flag first," explained Tiago, who rewarded Honda Belgium for its initiative to participate in the TCR Benelux with his victory.
Tiago Monteiro repeated his magnificent result the next day by winning the first race and finishing as runner-up in the second.
"I started from fourth on the grid in the first race and worked my way gradually into first spot, which I then didn't surrender. I took the lead in the second race, but then it started to rain and it became dangerous because we were on slicks. I drifted a little too wide going into a bend and was overtaken. Then the safety car came out and I no longer had a chance to capture first place, since the race was not continued," said Tiago.
He is now focusing on his next race in the FIA World Touring Car Championship (WTCC), which will be held on the Nürburgring this weekend.