Hockenheim
Victory secures title of runner-up for Christian Engelhart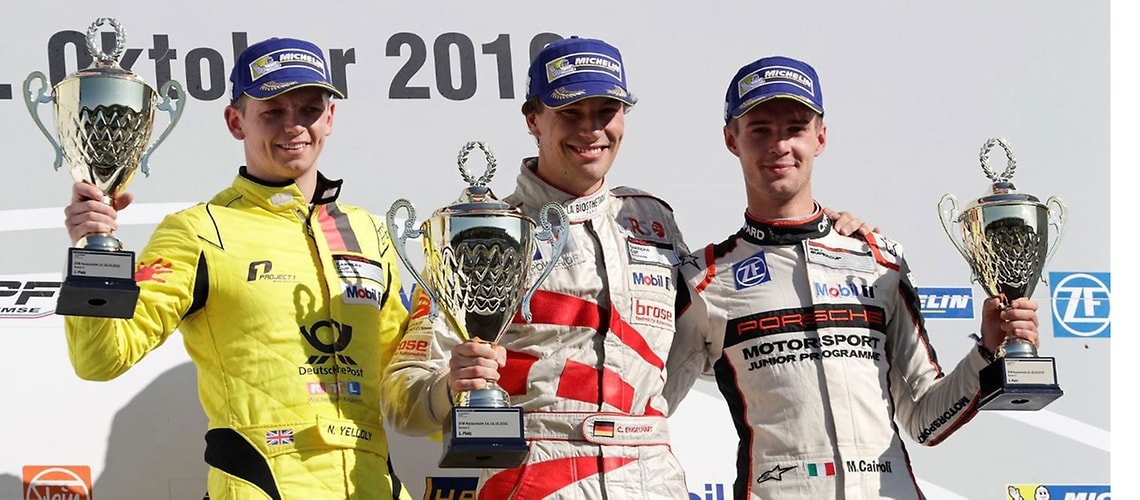 Hockenheim, 10-15.2016
With well thought-out attacks and a fine team performance, Christian Engelhart was able to produce an extremely successful weekend of racing at the finale of the Porsche Carrera Cup Germany in Hockenheim and so keep the championship up for grabs until the very last lap.
With his victory in the final race, Christian captured a hard-fought and also deserved win to conclude this year's Carrera Cup season, whose finale saw a battle for the title that went right down to the wire.
By finishing third in the Saturday race, Christian was able to prevent the championship being decided after the first race and also celebrated his twelfth place on the rostrum this season. As a result, Christian was able to keep in striking distance of the leader – and lay the foundation for a nail-biting finale on the Sunday.
Starting from sixth on the grid, Christian began chasing the lead as soon as the lights turned green. In the space of three laps, the pilot from Kösching moved up four spots into second, just behind his direct rival for the title. Since the latter had to take a drive-through penalty due to a severe collision at the start of the race, Christian not only took over the lead, but also reduced the gap between them in the drivers' championship to a meager two points. It was only because of a safety car phase midway through the race that the field bunched together again and Christian, although in the lead, had to rely on his personal fortune if he was to win the title.
With a commanding performance and controlled driving from the front, Christian secured victory and 20 points at the end of the 15 laps, but lost the title battle by the narrowest of margins. Nevertheless, the verdict on the season by the now three-times runner-up (2013, 2015 and 2016) is a positive one.
"Contending for the title for the third time in what is Germany's toughest national cup speaks for itself. I believe I was again able to demonstrate my consistency over the whole season. Thirteen places on the rostrum and two wins out of a total of 16 races means that I was on the podium at the end of almost every race. That makes me proud. I'd therefore like to thank first and foremost my sponsors and partners for their support and trust, as well as my team, engineers and mechanics who give their all throughout the year."
With this win behind him and knowing that he has a powerful car, Christian travels directly from Hockenheim to Austin/Texas, hopefully to also celebrate a similarly successful weekend of racing in the Porsche Mobil 1 Supercup as part of the Formula 1 event.