Bruchsal/Coburg
Brose-SEW joint venture: first joint appearance at leading trade fair for electric mobility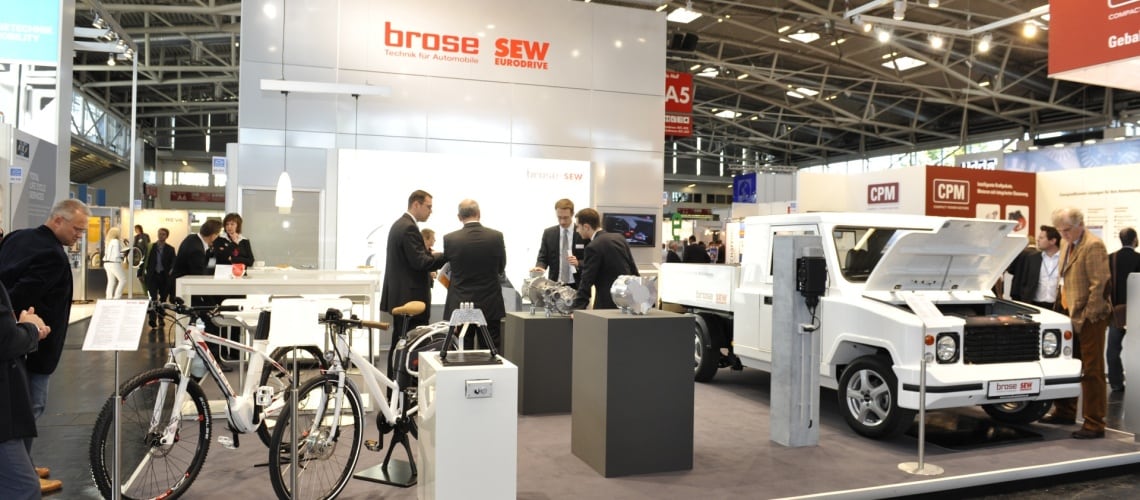 Bruchsal/Coburg, 10-27.2011
The Brose-SEW joint venture founded at the beginning of 2011 was represented for the first time with its own booth at the eCarTec, the leading trade fair for electric mobility in Munich. The product presentation focused on motors for electric and hybrid vehicles as well as inductive charging. A municipal vehicle equipped with an asynchronous machine and the charging technology showcased examples of Brose-SEW's expertise in the field of electric mobility. Visitors were also greatly interested in the e-bike, its appealing design attracting many of them to the booth.
Already at the press conference prior to the trade fair, the explanations of Brose-SEW head of sales, Andreas Zühlcke regarding sustainable solutions in terms of drives and inductive charging technology aroused the interest of some 30 representatives of the media.
"Talks with numerous trade visitors also showed that we are on the right track with our e-mobility portfolio. Vehicle converters, prominent representatives of carmakers, among others of Fiat, Lotus or Opel, as well as a delegation of Korean visitors came to learn more about our expertise in electric drives. Of course, our inductive charging technology was also of great interest. It is now
important to follow-up on these contacts and intensify the talks to convince our customers of our capabilities in the field of electric mobility," summarizes Andreas Zühlcke.