Barcelona / Ludwigsburg
Brose Bamberg wins and loses at the weekend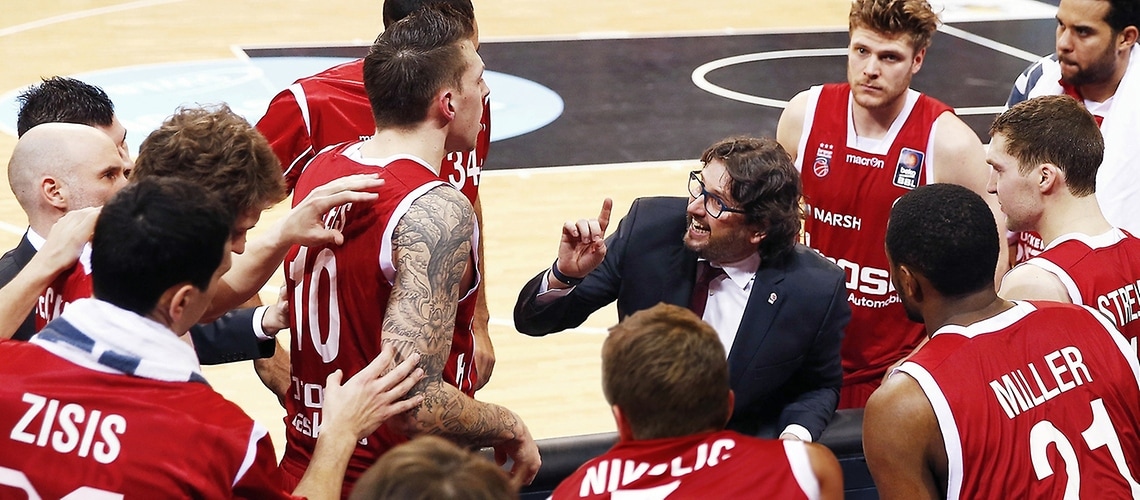 Barcelona / Ludwigsburg, 10-30.2016
It's almost as if there's a jinx: Brose Bamberg suffered its third narrow defeat in its fourth Euroleague game, this time against FC Barcelona in the venerable Palau Blaugrana arena on Friday evening. The team of Head Coach Andrea Trinchieri ended up losing 74:78 to the Catalan club. The German champions were at least able to make amends in the domestic league on Sunday evening, capturing their eighth win of the season out of eight games with a 60:48 victory at MHP Riesen Ludwigsburg to defend top spot in the table.
The chances of winning at FC Barcelona had never been so great: The favorites went into the game against Brose Bamberg without their stars Justin Doellman, Juan Carlos Navarro and Pau Ribas. Thanks to a strong performance by top scorer Fabien Causeur, who had already notched up eleven of his 19 points by the break, Trinchieri's players scented victory. The club from Upper Franconia led 32:27 after 16 minutes, but the home side capitalized mercilessly on several turnovers in the final two minutes before half-time to snatch a 38:40 lead. After the break, "Barca" pulled away to 50:57, although Daniel Theis (likewise 19 points) cut the deficit to 57:59 with two of his buckets from beyond the arc. It was once against Bamberg conceding turnovers (a total of 14) that prevented it from going in front. Barcelona again opened up an eight-point gap (66:74), but Trinchieri's players continued to fight and clawed their way back to 74:76 through Darius Miller with six seconds on the clock. However, the home side made its free throws after Bamberg committed a technical foul to seal defeat for the visitors.
Just 45 hours later, Brose baskets were back in action in the easyCredit German Basketball League, facing an unpleasant adversary in the shape of MHP Riesen Ludwigsburg. The club from Swabia hoped that Trinchieri's players would be tired and planned to exploit that with physical and robust play. However, the home side only managed to do that for three minutes: Bamberg trailed 2:6 by that stage, but then started to gel, especially in defense. The visitors made every attempted shot by Ludwigsburg so difficult that the home side only scored 33 points up to the end of the third period. That was also a good thing, as Bamberg was not exactly blessed with shooting prowess, scoring off just 44 percent of its attempts. However, the German champions now exuded the confidence that it could step up a gear whenever necessary against Ludwigsburg. Darius Miller impressed as Bamberg's top scorer with 13 points, while Elias Harris burrowed away below the basket to notch up nine.
Andrea Trinchieri commented: "Against Barcelona we were defeated on the final possession. I nevertheless believe we did a good job. There were moments where we gave our best, but we missed four open three-pointers. We're just missing a certain final touch. We're very close to beating the big teams, but we're not yet delivering. We need to work to close that gap. After the tough week, we weren't brilliant in Ludwigsburg, but we played together very well as a team. We did a solid job, especially in defense."
Brose Baskets now face their next game in the Euroleague on Thursday, November 3, 2016, when the former team of Bamberg's Nicolo Melli, Emporio Armani Milan, visit the Brose Arena (tip-off: 8 p.m.).