Bamberg
Brose Baskets defeat Laboral by clear margin in the final Top 16 game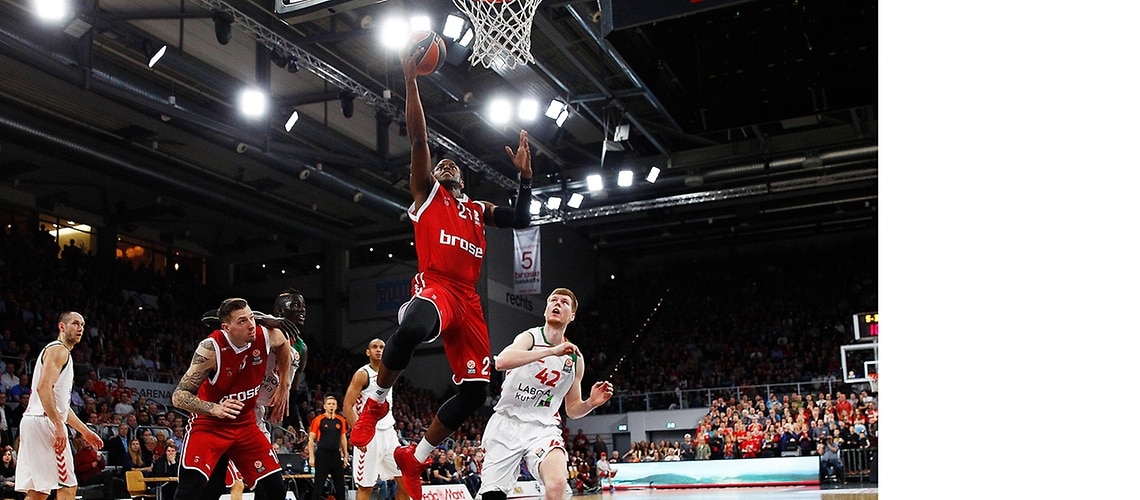 Bamberg, 04-07.2016
Brose Baskets did what was asked of them with an outstanding 89:69 victory over Laboral Kutxa Vitoria Gasteiz, but FC Barcelona also won on the road at Kaunas at the same time. The team of Head Coach Andrea Trinchieri has therefore been eliminated in the Top 16 with 7 wins and 7 losses. Bamberg's fans celebrated their team with standing ovations minutes before the game ended in a show of thanks for the great Euroleague season.
However, in a direct comparison with the other two clubs on equal points with them – Khimki Moscow and title-holders Real Madrid –, the German champs had too few victories to their name and so dropped back to sixth in the table. Taking both Euroleague rounds together, Trinchieri's team ended up with 13 wins and 11 losses – the best result a German team has achieved in Europe's top club competition. In the end, just one victory from the three narrow last-second defeats against Real Madrid or Zalgiris Kaunas would have been enough for Brose Baskets to qualify for the Euroleague playoffs.
Although most of the team already knew the Barcelona result at half-time, the players crowned their European season with an impressive display against second-placed Laboral Kutxa. Right from the tip-off, the home side tore into its opponents in offense and also closed down Laboral's Ioannis Bourousis completely under their own basket. Daniel Theis took care of him, the Euroleague's most dominant center according to the statistics, and the Greek player failed to make a mark, especially in the first half, where he scored just two points. Unlike Bamberg's players: after three buckets from outside by Darius Miller, Brad Wanamaker and Elias Harris, Trincheri's team was already 19:7 in front. In particular Miller had regained his shooting accuracy and, with his ten points, played a major hand in giving his side a 29:14 lead after the first period. The American notched up sixteen of his 19 points before the break. The three just one second before half-time was especially spectacular – Miller was not able to catch an inaccurate pass properly, dived after the ball as it went out of bounds and threw it toward the basket as he fell – and the shot duly dropped to make it 45:28 for Brose Baskets.
After the break it was above all top scorer Daniel Theis who continued his strong performance and also made his mark in offense: with his two buckets from outside and total haul of 21 points, he stretched the lead to more than 20 again (56:35). The Basque club now put up stiff resistance and reduced the deficit to 63:52 by the end of the period. However, Brose Baskets did not let victory be wrested from their grip: two strong lay-ups by Leon Radosevic were followed by a three by Darius Miller to make it 73:54 and as good as seal the game.
Andrea Trinchieri commented: "The last ten minutes of the game say it all: our fans, the city – all were enthusiastic, there were standing ovations. We ended the Euroleague with 13 wins and eleven losses. We missed the quarter-finals only because of small things. Everyone can see that we achieved more than we were expected to. It was an incredible journey. Everyone saw how hard my players fought in every game, how they tried to compensate for less experience through their fight. I enjoyed every single second of this journey."
Brose Baskets can now focus fully on defending their title in the German league. In four of the last six regular season games, the German champs come up against potential playoff opponents, starting on Sunday, April 10, 2016, when the reinvigorated seventh-placed team Ratiopharm Ulm visits the Brose Arena. Since Sport1 is broadcasting the game live on TV, the tip-off is at 3 p.m.