Bietigheim
HC Erlangen also wins in Bietigheim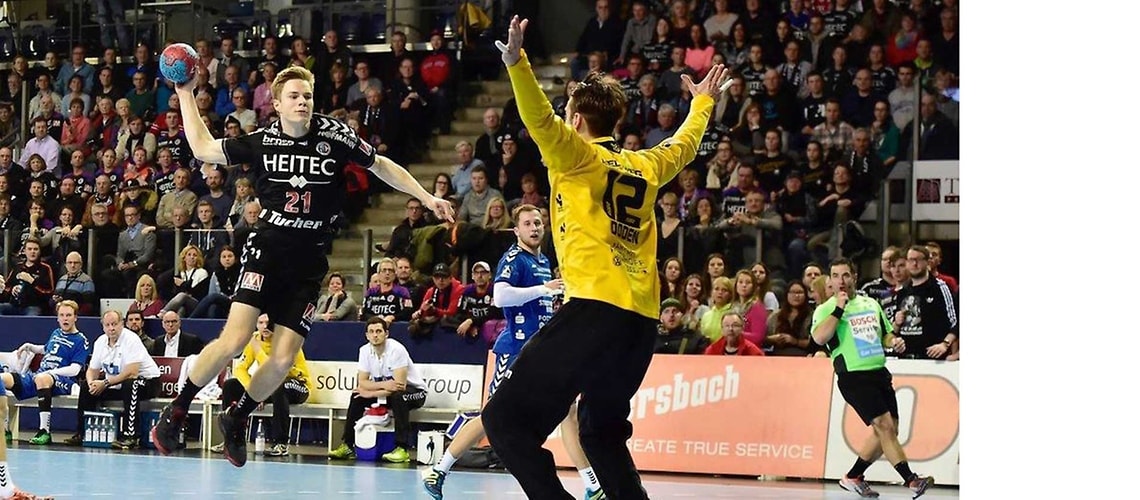 Bietigheim, 03-05.2016
HC Erlangen did what was asked of it in commanding fashion on the road at SG BBM Bietigheim. The team of Head Coach Robert Andersson won 31:28 (16:14) to consolidate its leading position in the table.
Almost 200 fans from the German league side from Franconia fired on their team for the whole 60 minutes and were firmly in control of the EgeTrans Arena from the throw-off. The league leaders from Erlangen got off to a strong start and only once let the home side take the lead (1:0). After that, Martin Stranovsky, who read the game very well, pulled the strings and enabled the HCE to produce a run of five goals without reply. Bietigheim closed the gap a little in the course of the opening quarter of an hour. HC Erlangen controlled the game, even though it finished attacks too quickly now and again and so was not able to seal the game early on. A penalty by Nikolai Link on the half-time buzzer gave the HCE a 2-goal lead at the break.
As in the past few games, Erlangen came back out strongly and stretched the gap with two successive goals. The home side now tried to disrupt the HCE's game with more offensive covering. In this spell it was once again Nikolai Link who kept on making perfect decisions and always gave the right response to Bietigheim's goals. The game was finally decided when Jonas Thümmler made it 29:23 in the 54th minute.
Robert Andersson commented: "My team again coped with a tough away game today. We no longer let leads slip and that's a real strength."
HC Erlangen has its first "CLUB DAY" this Saturday, when the visitors are TV Emsdetten. The throw-off in the Nürnberger Versicherung Arena is at 7 p.m.