Bamberg
Beko German Basketball League: Brose Baskets open second half of the season by strolling to a 113:92 victory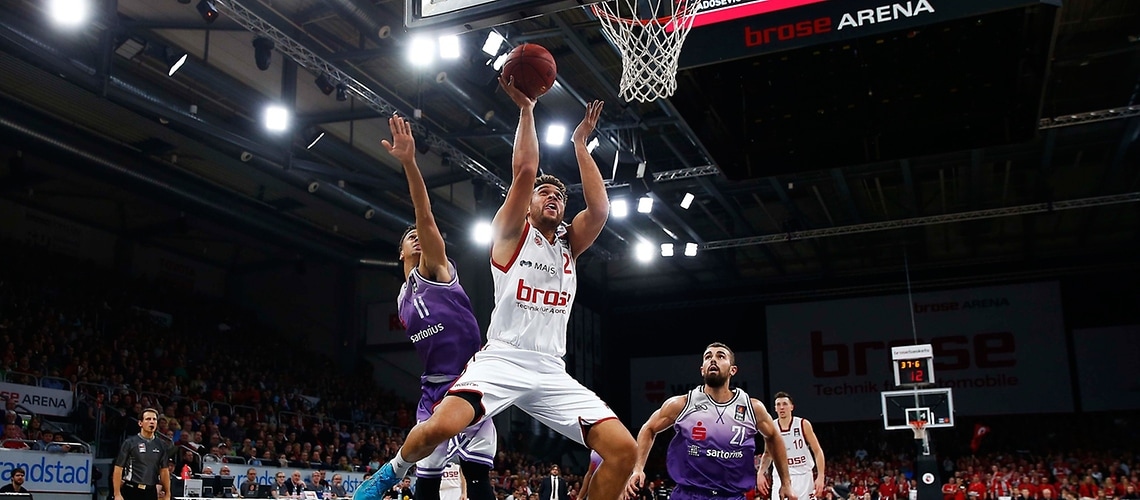 Bamberg, 01-17-2016
After Brose Baskets' sensational 77:72 win at favorites Olympiacos Piraeus in the Top 16 of the Euroleague, the German champions needed nine minutes to adjust to the reality of their bread-and-butter business in the German League. Trailing by 18:20, the team of Head Coach Andrea Trinchieri produced 11 strong minutes to surge 66:37 ahead at half-time and then strolled to a 113:92 victory against BG Göttingen in the opening game of the second half of the season.
The "Euro giants" had only returned from Greece on late Saturday afternoon, yet Andrea Trinchieri nevertheless asked his players to complete a quick training session in Strullendorf to prepare them for Göttingen. To begin with, Brose Baskets stuttered in offense in particular, with the result that the relegation-threatened "Violets" kept on moving in front and Bamberg trailed by 12:16 after seven minutes. The introduction of Daniel Theis (18 points) gave a boost to Bamberg's play – the center chalked up nine straight points and put his side ahead for the first time with a bucket from beyond the arc (21:20). Captain Brad Wanamaker brought the period to a close with a slam-dunk to make it 25:20 for Bamberg. The German champs then produced a magnificent display of ten minutes of offensive play at its best, draining twelve of their fifteen shots in the second quarter, eight of them from outside. Trinchieri's team played Göttingen dizzy, stringing together rapid moves and finishing them with a pass to a free-standing teammate to score. Three buckets from outside by Lucca Staiger, two each from Darius Miller and Daniel Theis, and one on the buzzer by Janis Strelnieks helped Brose Baskets chalk up a record for a quarter: 41:17 (!) in ten minutes – in a "feast of missed shots" one day earlier, pursuers Alba Berlin managed just a meager tally of 43 points in all four periods against Braunschweig. Bamberg led Göttingen by 66:37 at the break – the game was as good as over.
And so the 6,800 Bamberg fans did not mind the fact that their team did not operate with its customary toughness and focus, especially in defense, in the second half, but conserved its strength for the tough tasks ahead of it in the Euroleague. Yet the shots kept on dropping up front and Göttingen was not strong enough to close the gap appreciably. In particular Elias Harris (17 points) and top scorer Lucca Staiger (22 points, 3 steals and a block) were in accurate shooting form, Daniel Theis managed 11 rebounds in addition to his 18 points, while Brad Wanamaker was more prominent as a director of affairs (6 assists, 4 turnovers) than a scorer, although he did bring up the 100 points with a slam-dunk.
Andrea Trinchieri commented: "It wasn't easy to prepare for this game because we didn't get back to Bamberg until half past five on Saturday evening. We were very good in the first half, but we had problems in defense and conceded a lot of buckets in the second. At the end of the day, we only had to play well enough to win today. And we managed to do that and never lost control of the game. I'm happy at how Elias Harris and Lucca Staiger played. They both helped us greatly today. We needed players who had fresh energy and fresh legs to give us a boost."
Brose Baskets now face a tough game on the road in the Top 16 of the Euroleague against Khimki Moscow on Friday, January 22, 2016. The tip-off in the Krylatskoye Sports Palace is at 6 p.m.
For more information visit www.brosebaskets.de, www.euroleague.net and www.beko-bbl.de.