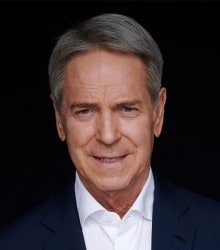 Michael Stoschek
Michael Stoschek is Chairman of the Brose Group.
In 1971, at the age of 23, the grandson of company founder Max Brose took over the management of the Metallwerk Max Brose & Co. in Coburg.
After training at Siemens and at the University of Nuremberg/Erlangen, Michael Stoschek developed the Upper Franconian company into a global market leader for mechatronic components and systems in the automotive industry. Thanks to his 50 years of responsibility for the Brose brand, Stoschek is one of the most experienced representatives of the automotive supplier industry.
As no successor was available from the fourth generation of shareholders, Stoschek transferred operational management to Jürgen Otto in 2006 and was elected chairman by the shareholders' meeting.
To assure the long-term orientation of the Brose Group as family-owned company, the fourth generation of Max Brose's descendants, which has been a member of the group of shareholders since 2011, has adopted a governance code. It defines the roles of the owners as well as the tasks and composition of the corporate bodies.
For Michael Stoschek, entrepreneurship also means taking on responsibility outside of the company. He provides extensive assistance to national and international projects focused on social issues, culture, youth programs and sports. Stoschek supports several social organizations in Ahorn, his home municipality in the district of Coburg, of which he is an honorary citizen. Beyond financial support, Stoschek also assumes a number of honorary leadership roles in social, cultural and sports organizations.
Michael Stoschek was awarded the initiative prize of the "Stiftung Industrieforschung" (Industrial Research Foundation) in 2003, holds the Cross of Merit 1st Class of the Order of Merit of the Federal Republic of Germany, and was named Family Entrepreneur of the year in 2005. In 2010, he was awarded the Bavarian Order of Merit for his lifetime achievements.
Stoschek also made a name for himself as a competitive athlete: he was the Bavarian Showjumping Champion in 1992 and 1996, and in 2006 he became the European Rally Champion in the category of vehicles built up to 1975.
The Brose Group's shareholders also include Michael Stoschek's sister Christine Volkmann and the children of both siblings.