Bamberg
Brose Bamberg bid farewell to the Euroleague with a defeat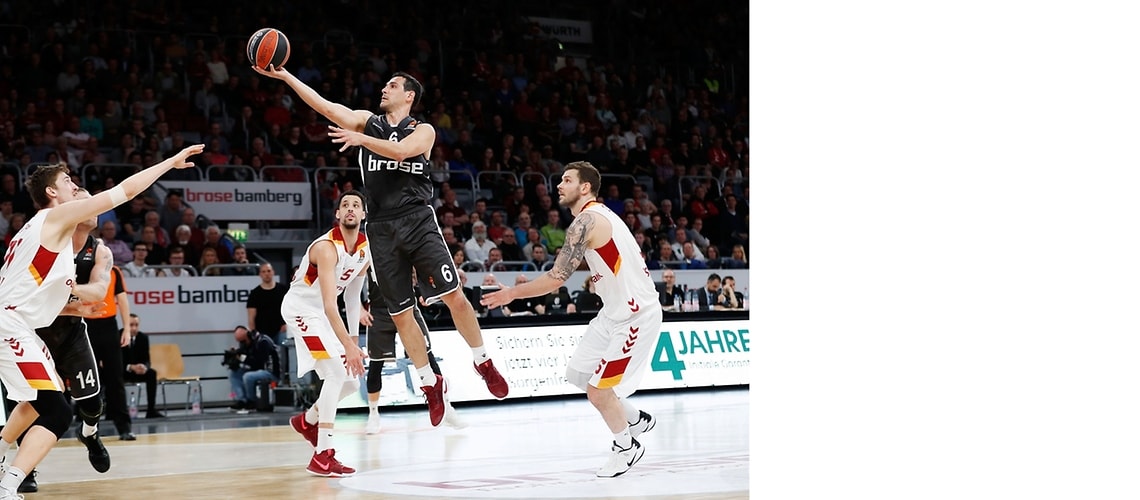 Bamberg, 04-06-2017
There was not to be a happy end for the German champions in the Euroleague, as they went down to a 79:84 home defeat against Galatasaray Istanbul in their 30th and final game in the regular season in Europe's top club competition. Now the team of Head Coach Andrea Trinchieri can at least focus fully on the easyCredit German Basketball League, since the only way for it to ensure a place in next season's Euroleague is to defend its championship title.
Lucca Staiger (tendon injury in his foot) and Elias Harris (knee problems) were missing, while Trinchieri rested Janis Strelnieks, whose appearance in Göttingen last Sunday was his first game after six weeks out with a shoulder injury. The tussle between the two teams had no bearing on their standing in the table, but turned into an end-to-end affair with runs on both sides. Bamberg produced the first thanks to a bucket from beyond the arc by Darius Miller and two lay-ups by center Vladimir Veremeenko to make it 7:0, Galatasaray struck back through the former Bamberg player Tibor Pleiß with a 13:2 run, then Trinchieri's team snatched the lead back with a 10:2 run to take the first period by the narrow margin of 23:20. At the start of the second period, Bamberg was able to inject more energy into its game, especially in defense, and capitalized on two turnovers to add quick threes through Daniel Theis and Maodo Lo and take a double-digit lead for the first time (33:22). Yet Andrea Trinchieri evenly spread his players' time on court in this meaningless game and merrily made sweeping changes to his side, with the result that, despite nine points by Patrick Heckmann up to half-time, Galatasaray closed the deficit to 45:43.
After the break, the visitors from Istanbul managed to equalize, after which old hand Nikos Zisis (11 points) often stormed through Galatasaray defense to the basket to help put his side 54:47 ahead. However, Bamberg was not able to open up a bigger gap, as the visitors repeatedly exploited gaps in the home side's defense and kept the game tight. Trinchieri's team went into the final ten minutes of its Euroleague season with a five-point lead (63:58) – but they were unfortunately to be a rather depressing for Bamberg. Istanbul recaptured the lead with two quick threes, Darius Miller (11 points) replied with a three and a lay-up, then Maodo Lo (8 points) put his side 72:69 in front by draining his shot from outside. Yet after Radosevic's subsequent slam-dunk, Bamberg went two-and-a-half minutes without scoring, in which time Galatasaray bagged three of its six buckets from downtown in the final period to make it 74:82 with one minute to go. Bamberg's top scorer Nicolo Melli (17 points) was only able to put a better complexion on the score and in the end the home side was not able to chalk up its eleventh win in this season's Euroleague.
Andrea Trinchieri commented: "That was our last game in this Euroleague season and I first of all want to thank our incredible fans. As to the game: It was decided by our limp defending, especially against their three-point marksmen. We conceded 26 points in the final period, that was the key to our defeat. We played well over three periods, but than made crucial mistakes."