Malaga
Brose Bamberg wins in Malaga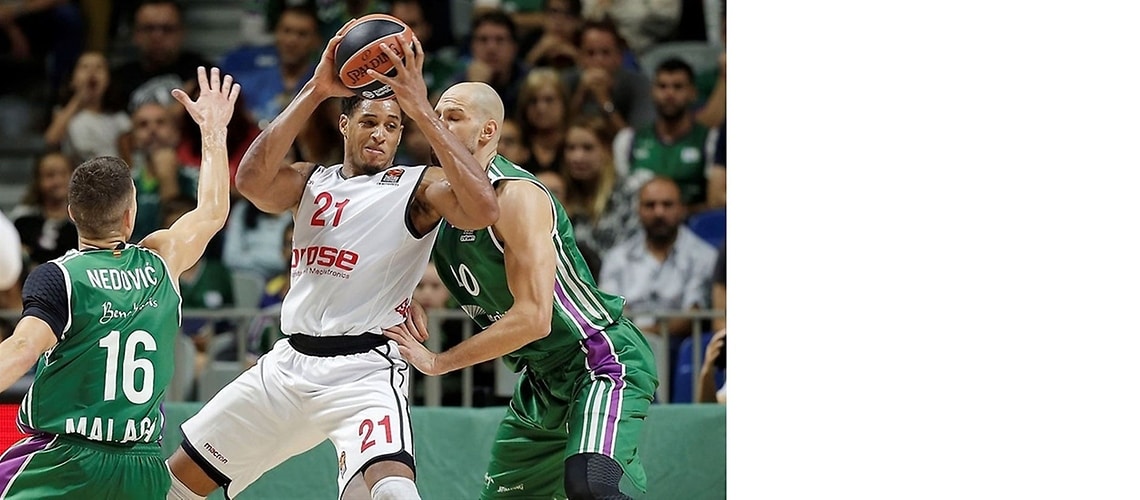 Malaga, 10-25-2017
Brose was without Nikos Zisis through illness in Andalusia. The rest of the squad produced a fighting display from the tip-off and got off to a good start. However, Nedovic drained a bucket from beyond the arc midway through the first period to make it 14:9 for the home side. A little later, Suarez gave his side its highest lead up to then. Brose struck back with a 9:0 run, which Lucca Staiger finished off with five points in a row. The score at the end of the period was 24:22 for Bamberg.
Two threes by Hickman helped Brose retain its lead at the start of the second quarter. However, Bamberg was still not able to get a grip on Nedovic, who ended the game as top scorer with 24 points. He added three of them midway through the second period to tie the scores at 32:32. Staiger hit back with a bucket from downtown at the end of the quarter, as Brose Bamberg went in at the break leading by 38:34.
The second half began with two three-pointers by the home side. Brose put up stiff resistance and in particular was far more solid in defense than in the last games. Head Coach Andrea Trinchieri had specifically warned about Malaga's strong rebounding skills going into the game and it was precisely in that department that Bamberg put up a valiant fight. Nevertheless, the visitors were behind entering the last ten minutes.
An end-to-end affair ensued in the final period. Hickman's third bucket from outside put Brose back in front. The lead changed hands repeatedly up to midway through the quarter. Hackett, Rubit and Hickman produced a run of six points without reply to put their side seven ahead. However, that was not enough to see Bamberg through. Malaga hit back again and equalized in the final minute through Augustine (76:76). Yet Brose was not perturbed one bit, kept its cool in particular from the foul line in crunch time and finally ran out deserved winners by 80:76.
Andrea Trinchieri commented: "It was a magnificent win for the team. We gave our all on court. We fought, we made mistakes, but we came back stronger from those mistakes. Congratulations to my players for how they bounced back – in the best possible way. It's important for us to win so as to get our season underway at last. But winning here, where Fenerbahçe lost in the first round, is something special."