Nuremberg
Brose Baskets lose against Real at the death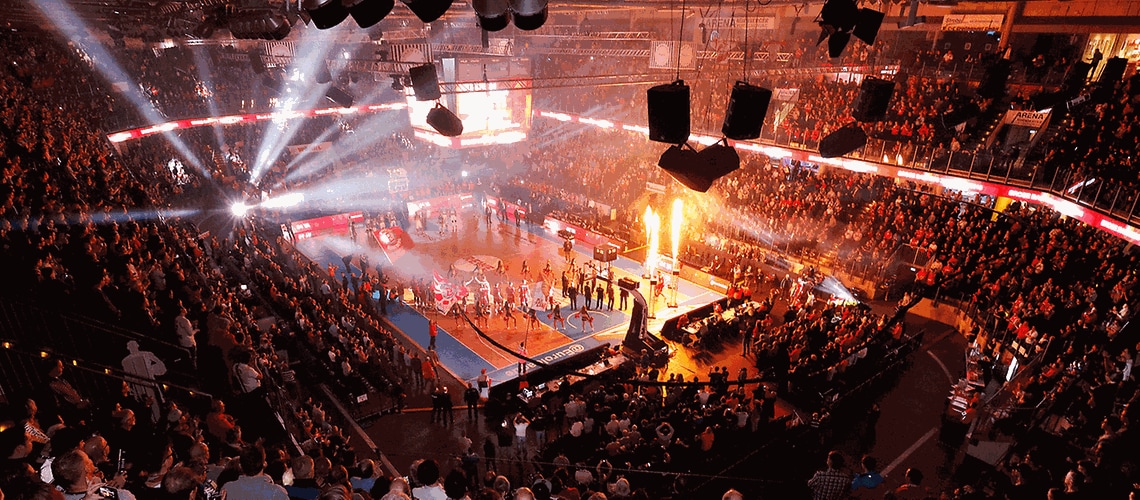 Nuremberg, 02-25-2016
Once again the last play and once again it was Real Madrid. Brose Baskets have been dogged by bad luck in the final seconds against the reigning Euroleague champions in this season's Top 16: Brad Wanamaker could have scored and forced overtime with eight seconds on the clock, but his lay-up was blocked away by Real's Gustavo Ayon and landed next to the hoop. The German champions ended up losing 86:90 against Spain's triple winners in the sold-out Nürnberg Arena, despite a strong performance.
A crowd of 8,200 saw a highly intensive and dramatic basketball evening to kick off the return games in the Euroleague – and one where Brose Baskets got off to a lightning start: Buckets from beyond the arc by Brad Wanamaker and Janis Strelnieks, a half-distance shot by Patrick Heckmann, and lay-ups by Nicolo Melli and Leon Radosevic put their side 12:0 in front after three minutes – an incredible start for the home side. Yet the reigning Spanish champions, cup winners and Euroleague titleholders struck back clinically, in particular in the shape of playmaker Sergio Llull, who got Madrid back into the game (14:6). Although Leon Radosevic (11 points) battled his way through at the board and helped put Bamberg 26:15 ahead, Real reduced the deficit to 26:23 in the space of eighty seconds with the sixth three and a run of eight points without reply.
Since the Spanish side now increasingly gathered points under the basket, it opened up a 31:37 gap midway through the third period. However, Bamberg's captain Brad Wanamaker made it 35:37 with a rare four-point play (a three plus a bonus free throw for a foul). Lucca Staiger drained a bucket from eight meters out to give Bamberg the lead back (44:43). Yet Real hit back on the buzzer to go in at half-time leading by 45:46.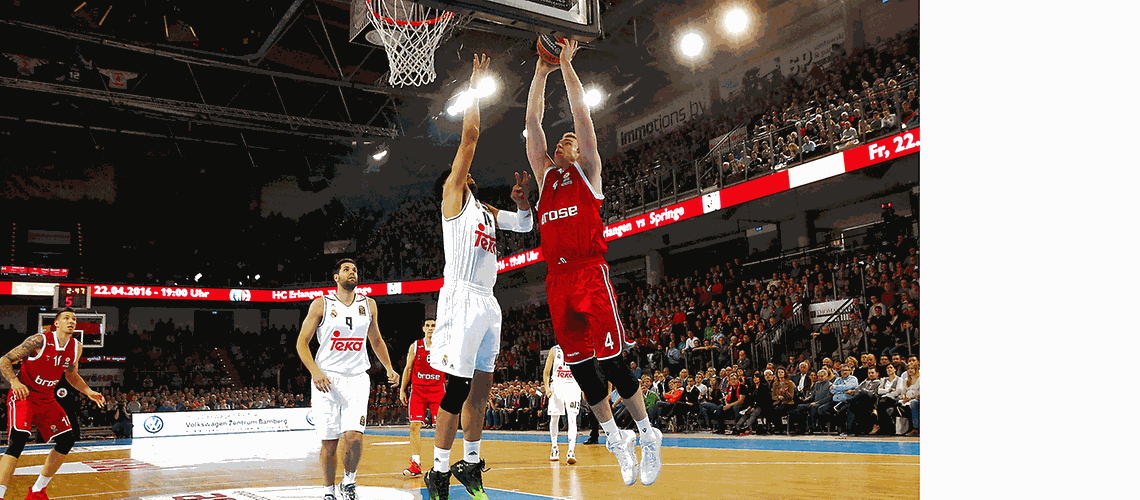 Madrid came out better after the break and built its first ten-point lead within three minutes (47:57). Bamberg's Head Coach Andrea Trinchieri called a timeout and gave his team another very emotional pep talk. Darius Miller then took things into his own hands, had the right answer ready with two buckets from outside (56:59), and Brad Wanamaker (16 points) added two free throws to close the deficit to 58:59. However, Real pulled away again to 65:74 by the start of the fourth period. A three by Daniel Theis to make it 68:74 was followed by a turnover and lay-up from Janis Strelnieks (11 points) to cut the gap to 70:74. Brad Wanamaker drained his first bucket from beyond the arc and then added a lay-up to put his side 77:76 ahead – and the 8,200 fans in the Nürnberg Arena went wild. The lead then changed hands a number of times – Nikos Zisis (9 points) and top scorer Darius Miller (20) scored, but Real led 88:86 with 22 seconds to go. Brad Wanamaker saw the gap in Madrid's defense and drove to the basket, but the block by Gustavo Ayon shattered Bamberg's dream of victory.
Andrea Trinchieri commented: "The question at this moment is: could we have done anything better? It was a magnificent game in a magnificent atmosphere. We fought with all we could. We were up against a great team that made incredible shots. But we managed to stay in the game. We played with great energy. I'm proud of my team. We lost because of small mistakes: sometimes up front, sometimes at the back. Such mistakes occur in some games because we're no focused enough. In others, it's simply the case that they occur because the games cost an incredible amount of energy. Congratulations to Real, who deserved the victory, And congratulations to my team, which fought to the very end. But to answer the question I asked to begin with: yes, we can always play better."
Brose Baskets face their next challenge on Sunday, February 28, 2016, when Fraport Skyliners Frankfurt, the fourth-placed team in the German Basketball League, come to the Brose Arena for a game that tips off at 5 p.m.