Salzburg
Christian Engelhart: Fighting spirit rewarded with five points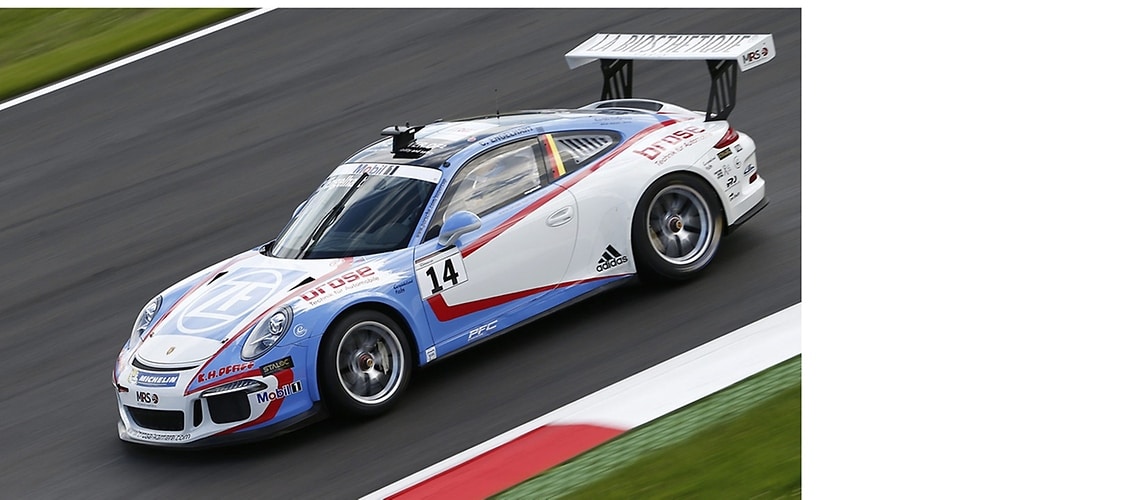 Salzburg, 07-03-2016
The Red Bull Ring actually suits Christian Engelhart. Yet in the Porsche Mobil 1 Supercup race as part of the Formula 1 event, the weekend of racing turned into a real challenge. On the Friday, Christian clocked the third-fastest lap. The Bavarian pilot then had to overcome a few hurdles up to the race to finally get into the points.
There have certainly been more successful weekends of racing for Christian Engelhart. Yet nothing is ever easy in motor racing and so the Porsche pilot battled his way through strength-sapping and nerve-wracking moments in the Red Bull Ring last weekend.
Christian really ought to have been satisfied with the third-best time on the Friday. Yet there were a total of three red flag phases on the track and so too many interruptions for him to get into a decent rhythm. "It's extremely important to tune the car perfectly in training and that needs time. We didn't have it in free training, despite the good result."
Christian managed to finish seventh in qualifying on the Saturday. "Of course, that's not a place I can be happy about, especially since I came to Styria aiming for a spot on the rostrum. But at the end of the day I can live with seventh and everything's possible in the race itself."
Christian then demonstrated his fighting spirit once more, had a good start in his Porsche 911 GT3 Cup and so got himself in a position to move up in the field early on. However, contacts in the first bend robbed him of important momentum. Later attempts to make up ground were also interrupted by a total of three safety car phases in 16 laps. "Basically, the race was unfortunately a continuation of the Friday. It's simply difficult to get a rhythm in the race when you have to start afresh every four laps on average. Of course, your chances of overtaking then drop." Despite all the difficulties, Christian ended up with five more points in his championship tally, despite the fact that – to top it all – he was involved in a collision shortly before the finish.
Now he has to sort out the problems from last weekend as quickly as possible in order to tune the car right for the race sooner. This weekend sees the races at the legendary Silverstone track as part of the Formula 1 event.