Frankfurt
easyCredit German Basketball League: Brose Bamberg show no weakness to win 76:57 in Frankfurt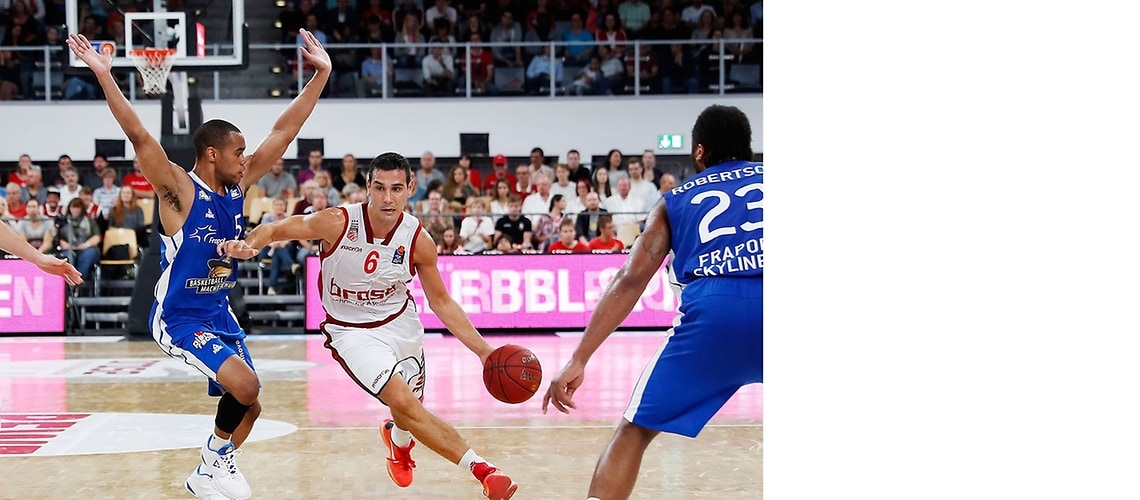 Frankfurt, 02-12-2017
Brose Bamberg got into scoring form for the "cup week" at for at least one half. The team of Head Coach Andrea Trinchieri led by the very clear margin of 50:25 at half-time on the road against Fraport Skyliners Frankfurt and ended up winning by 76:57.
Trinchieri's team was warned about how dangerous Frankfurt can be, since it had lost in the Fraport Arena last season – one of just three defeats in the regular season. In addition, the club from Hesse has the league's fourth-best defense in terms of points conceded (but also make by far the fewest points in offense). On Sunday evening, however, Bamberg left no doubt from the tip-off that it wanted to take both points home and started off by producing a run of eight points without reply with two buckets from beyond the arc by Miller and Lo and a lay-up from Radosevic. The visitors stuck to their system perfectly in the further course of the game and kept on making space for open shots by stringing great passes together. Heckmann and Strelnieks (12 points) likewise made their threes, while Daniel Theis added two spectacular slam dunks. Bamberg took the first period by 26:10 and Frankfurt found no antidote to its strong defending. After the next slam dunk by Leon Radosevic to make it 33:12, however, Brose Bamberg suffered a shock: Lucca Staiger collided in defense with Frankfurt's Mike Morrison while running at full speed and, as he was falling, was then hit by the elbow of Nikos Zisis on his head; he remained dazed for a time afterwards. The 28-year-old was taken to a hospital in Frankfurt, where he was diagnosed as having mild concussion. Despite the shock, Trinchieri's players kept their focus and top scorer and top rebounder Daniel Theis (16 points, 7 rebounds) buried a slam-dunk to give Bamberg a lead of 20 for the first time (39:18). Theis played almost as if possessed, adding two more slam-dunks and making a spectacular block in defense to prevent Frankfurt's Morrison from scoring a lay-up. Nikos Zisis (12 points) cracked the 50-point mark by half-time with four free throws.
In the third period, the encounter was no longer so spectacular on account of Bamberg's large lead. Bamberg was probably saving its energy for the cup week and so Frankfurt closed the deficit to 17 at one stage (61:44). Maodo Lo (10 points) with a strong performance after the break deserves to be singled out. In addition, Elias Harris was back in action for the first time after being out with a knee injury for two-and-a-half months.
Andrea Trinchieri commented: "We got off to a solid start and played stably all in all. It's important to get off to a good start in such games. We defended decently and controlled the game. Only in the third period, our concentration slipped. You always have to work hard at both ends of the court against such a well-coached team as Frankfurt. We did that and also prepared for that. Last year they gave us a good kick up the backside and we still remembered that."
Brose Bamberg now face MHP Riesen Ludwigsburg in a game postponed from the 19th matchday in the Brose Arena on Wednesday, February 15, 2017. It will be a good general rehearsal for the cup semi-final in Berlin on Saturday – likewise against MHP Riesen.