Coburg
BBC Coburg wins at home against Karlsruhe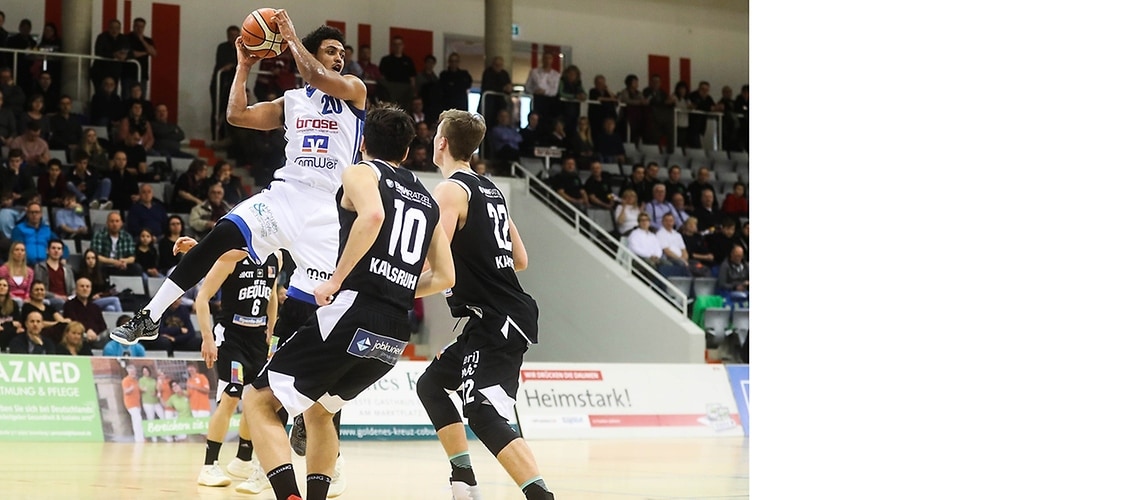 Coburg, 02-18-2018
BBC COBURG has bounced back impressively in its battle to avoid relegation from the ProB South 2nd German Basketball League with a convincing 88:60 home victory against KIT SC GEQUOS Karlsruhe.
"Let's press the reset button to zero and see what happens in the final eight games of the season," was the new strategy issued by Head Coach Derrick Taylor for his team during the week. To underscore that approach, the coaching team made changes in both defense and offense. Whereas the main goal was to step up the level of aggression and intensity in defense by means of rigorous pressing and double coverage, the focus in offense was more on moving the ball and players' movements.
And Coburg managed to do that very neatly from the outset against the bottom-placed team. The home side conceded just 26 points in the first half and scored 43 and often strung together eye-catching passes. In particular the outstanding Yasin Turan, who finished with 18 points, ten assists and nine rebounds and so very narrowly missed out on a triple-double, and forward Christopher Wolf put their stamp on the encounter before the break.
The home side found it a little tougher to get into its stride after the restart. However, its solid defense and the inability of a weak Karlsruhe team, which ended with an abysmal field goal percentage of 26, prevented the bottom-placed club from staging a comeback. It opponents from Upper Franconia maintained a double-digit lead at all times and, as a special treat, the 1,103 spectators in the HUK-COBURG arena were even able to celebrate a bucket from downtown by youngster Christoph Bauer, who was given a run-out in the final minute alongside Coburg's stalwart Sinan Özdil.
"It was a step in the right direction," said Derrick Taylor afterwards, suitably satisfied by the performance of his players, who aim to confirm their ascendant form in the finale to the season in Frankfurt this weekend.