Bamberg
Brose Bamberg celebrates narrow derby win over s.Oliver Würzburg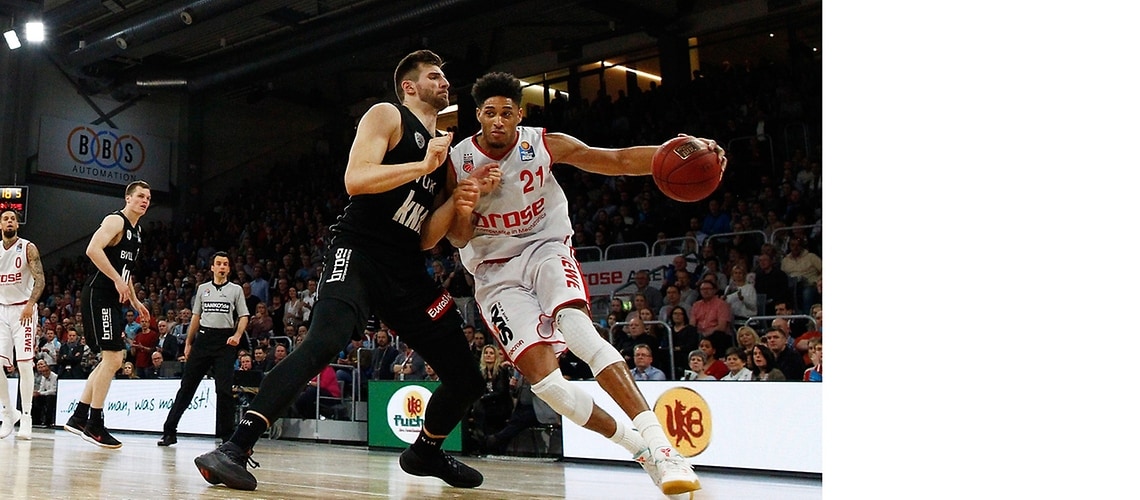 Bamberg, 03-17-2018
This derby win was immensely important, but incredibly hard-fought. German champions Brose Bamberg exacted revenge for the defeat earlier in the season against s.Oliver Würzburg with a 70:67 victory. The team of Head Coach Luca Banchi turned the game around after trailing 24:34 in the second period.
Bamberg quickly went 4:0 in front after two lay-ups by Leon Radosevic and Nikos Zisis, but was not able to stretch its lead, as it subsequently had difficulty scoring points in the face of Würzburg's tough defending. Bamberg failed to score anything from the floor for almost ten minutes. Whereas Würzburg drained four buckets from beyond the arc to lead 13:18 at the end of the quarter, the home side's only successes came from the foul line (nine out of ten attempts). After two further free throws by Augustine Rubit, Maodo Lo ended the drought with a three to make it 18:19, after which Würzburg's solid wall of concrete in defense again thwarted the home side. Bamberg's shooting was too inconsistent and the team did not have any potent ideas, whereas Loncar, Benzing and Stuckey on the opposing side drained three buckets from downtown in the space of two minutes to make it 24:34. That was also one of the reasons Bamberg ended up 29:38 behind at half-time.
Head Coach Banchi's pep talk was unusually long. The home side reemerged from the dressing room just three minutes before the restart, but then let fly. A quick run of six points without reply through Augustine Rubit and Nikos Zisis brought the champs within striking distance (35:38) and, after seven further points by top scorer Rubit, Ricky Hickman put Bamberg ahead for the first time since the opening minutes (46:45). The lead then changed hands seven times, before Dorell Wright put Bamberg 55:53 ahead at the end of the period with one of its rare three-pointers. Daniel Hackett took matters into his own hands at the start of the final quarter, bagging a lay-up and then a three (60:53). But instead of gaining greater security from this lead, Bamberg missed five shots from outside in a row, in some cases through haste. Würzburg struck back and went 64:67 in front with three-and-a-half minutes remaining, but then failed to score at all. Hackett stormed through and cut the deficit to 66:67 with a lay-up, Rubit recaptured the lead with two free throws with 28 seconds left on the clock, and the free throws by Ricky Hickman clinched victory.
Head Coach Luca Banchi commented: "Congratulations to s.Oliver Würzburg, who went into the game with a perfect attitude. Our opponents were very focused and played with a lot of energy and very physically. We didn't come to terms with that for 20 minutes. That was a very important message for us that showed us how well-prepared teams can play here. But my players struck back after the break. That was important for me and I'm pleased at how they responded. That was a perfect reflection for us of how great the pressure will be at the end of the season."
Dirk Bauermann, Head Coach of s.Oliver Würzburg, noted: "Congratulations to Luca Banchi, the Bamberg team and its fans. I think the game today had the character of a playoff. Both teams played very intensely and neither deserved to lose."