Bamberg
Brose Bamberg celebrates fighting win over Ludwigsburg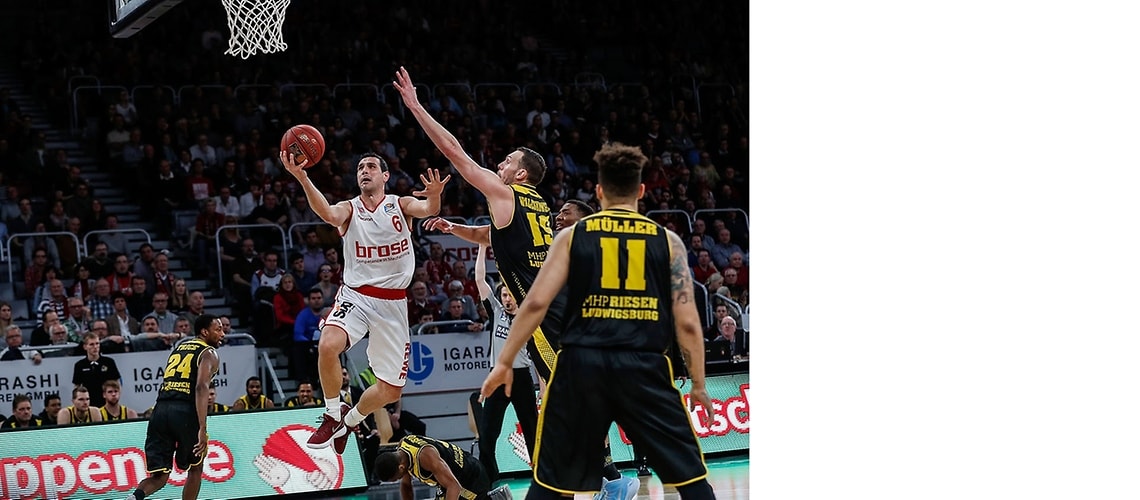 Bamberg, 04-01-2018
Brose Bamberg came away from its two games over the Easter weekend with one defeat and one victory. The 78:83 loss against Armani Milan in the Euroleague on Maundy Thursday was doubtless not such a bitter pill to swallow, while the 80:73 home win against MHP Riesen Ludwigsburg, the third-placed team in the easyCredit German Basketball League, on late Easter Sunday evening was far more important. However, the weekend was overshadowed for Bamberg by the injury to Ricky Hickman.
Against Armani Milan, in a game that was of no importance to the standings in the table, Ricky Hickman dislocated the thumb of his left hand with three minutes remaining. Just before having to retire, the American playmaker had notched up his 11th point to put Bamberg back within striking distance at 75:79. An examination at the hospital soon revealed that nothing was broken and only an MRT will show how many ligaments in the thumb are injured. Brose Bamberg expects the playmaker to be out for a number of weeks. Since Nikos Zisis was also rested by Head Coach Luca Banchi due to neck problems, the Italian club was able to hold on to its narrow lead. However, it was visible from Bamberg's play that Banchi distributed his players' time on court well and in particular did not let his key players wear themselves out. Trailing by 17:24, Bamberg staged a comeback in the second period thanks to the strong Daniel Hackett (17 points) to move 41:34 in front. Yet Milan did not let up, pulled away by six points at one stage midway through the final quarter and held on to run out winners.
The more momentous encounter for the rest of the season was clearly the tussle against MHP Riesen Ludwigsburg, the third-placed team in the German league. And the champions began strongly. Backed by powerful defending, the home side forced its opponents from Swabia into conceding a number of turnovers, which it capitalized on to go 14:8 ahead. Top scorer Dorell Wright stood out in the opening minutes, scoring ten out of his total haul of 17 points, with the result that Bamberg took the quarter 24:17. Ludwigsburg closed the gap to 24:21 through Justin Sears, but then Bamberg did not concede any points at all at the back and was able to launch a run of 17 points without reply thanks to many buckets by Maodo Lo and Leon Radosevic. However, Banchi's players let some of their 20-point lead (41:21) slip: After losing possession four times in a row, Bamberg went in at half-time just 41:31 in front.
And the visitors were able to reduce the deficit further after the break. With its aggressive full court press defense and tough, physical play that always bordered on committing fouls, MHP Riesen disrupted Bamberg's zest from the first half. Banchi's team now had to fight very hard for every bucket and also suffered from a number of slips in concentration in defense, with the result that Ludwigsburg clawed its way back to 69:68 with four minutes to go. However, the visitors now had to pay tribute for their excessively tough play. After Ludwigsburg had exceeded its team foul limit, the home side stepped up to the foul line after every foul against it – a total of eighteen times in the fourth period. Bamberg scored 16 of its 20 points in the final period in that way, and so it was Nikos Zisis and Augustine Rubit who sealed the game from the foul line.
Luca Banchi commented: "We had problems countering Milan's aggression in the final minutes. One factor was that Zisis didn't play at all due to his neck problems and Hickman had to retire at the end with a dislocated finger. My team started excellently against Ludwigsburg. The spell with six turnovers in the third quarter was problematic, but my players were tough enough to find a way to win in the end. Wright was very strong with his ten rebounds and good at boxing out in the paint. This victory was extremely important for our confidence."