Vechta
medi Bayreuth begins new season with a win on the road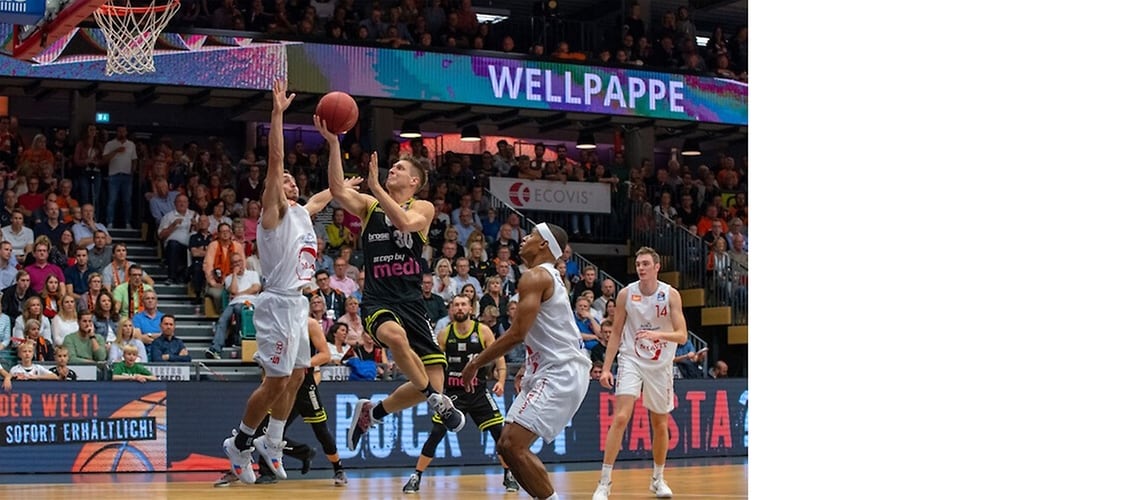 Vechta, 09-28-2018
medi Bayreuth has got off to a successful start to the new campaign in the easyCredit German Basketball League. In the tussle on the road against newly promoted RASTA Vechta, the team of Head Coach Raoul Korner was ultimately able to run out comfortable winners by 83:67 (43:25) in the RASTA Dome on Friday evening.
Both sides got off to a nervous start in the first game of the new season, with the spectators in the RASTA Dome initially seeing both teams commit a raft of mistakes. Whereas the newly promoted club had its nose ahead to begin with, Bayreuth produced a run of ten points without reply to open up a slight gap at the end of the first period.
Raoul Korner's team then managed to reduce the frequency of its mistakes further in the second quarter. It now got better and better into the game thanks to strong rebounding (20:12) and a much-improved shooting percentage. Its intensity in defense also grew stronger and stronger and so the visitors managed to keep on stretching their lead up to half-time.
Bayreuth maintained its lead in the third period. Thanks to a De'Mon Brooks in very fine fettle, an Adonis Thomas who got more and more into his stride as the game went on, and a strong performance from captain Bastian Doreth, medi kept the league newcomers at a distance of roughly 20 points at all times.
And the picture remained the same in the final period. Toward the end of the encounter, a number of careless mistakes crept into medi Bayreuth's game as RASTA Vechta took the final quarter and so put a slightly better complexion on the final score.
All in all, medi Bayreuth celebrated a commanding and deserved win. The man of the match was De'Mon Brooks with a double-double (19 points and 12 rebounds).
Quelle: www.medi-bayreuth.de