Bamberg
BBL Cup: Brose Bamberg beats Würzburg to advance to the quarter-finals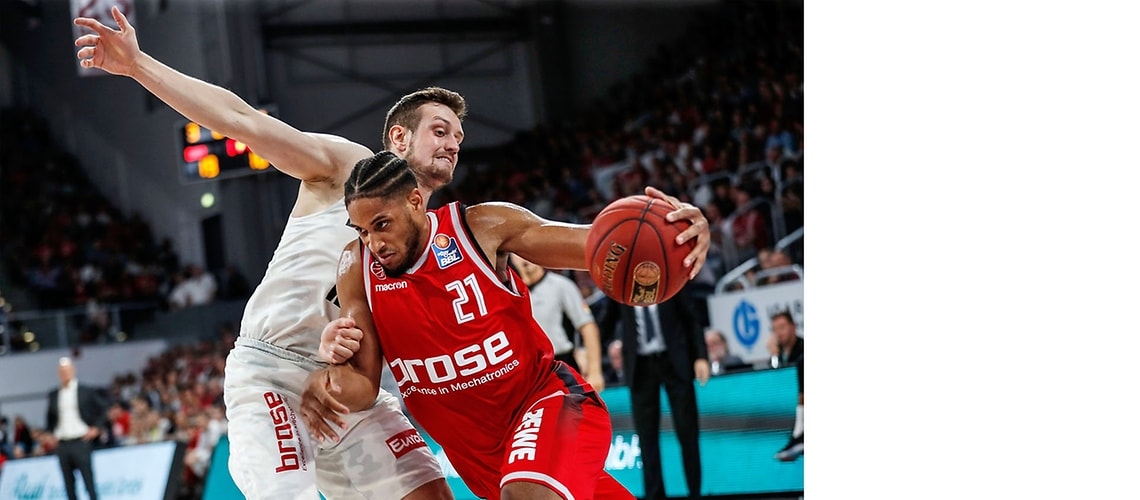 Bamberg, 10-06-2018
Brose Bamberg has defeated s.oliver Würzburg, its local rivals from Lower Franconia, for the second time in seven days. Unlike the tight game in the German league a week ago, which finished 84:80, Bamberg strolled to victory in the last sixteen of the BBL cup: A win was on the cards when it took the first period by 30:14 and it eventually decided the encounter in its favor by 92:84.
As in the opening game of the season, Bamberg's Latvian Head Coach Ainars Bagatskis placed his trust in the starting five of Nikos Zisis, Maurice Stuckey, Louis Olinde, Stevan Jelovac and Augustine Rubit. And they made it clear that they did not intend to be caught napping in the first quarter as they were a week ago in Würzburg: Thanks to tough defending (only one of Würzburg's first seven shots hit the mark) and beautiful combinations in offense with open three-pointers to finish, the home side surged 15:4 ahead after just five minutes. The duo of Augustine Rubit (17 points) and Stevan Jelovac (19) could not be stopped by the visitors and they stretched the lead to a decisive 30:14 by the end of the period. In particular Würzburg's top scorer Skyler Bowlin put up stiff resistance to avert the impending defeat, scoring 11 of his 16 points in the second quarter, but the club from Lower Franconia did not get closer than 12 points (41:29). One reason was that the home side defended strongly against Würzburg's shots from beyond the arc: The visitors scored just three out of 16 attempts up to the end of the third period, whereas Bamberg drained 9 threes or just under half of all their shots from downtown. A thunderous slam-dunk by center Cliff Alexander (8 points, 8 rebounds) put the home side 51:27 in front at half-time.
Bagatskis' team maintained its focus after the break: Playmaker Tyrese Rice (20 points) added points constantly to become the game's top scorer and his bucket from outside gave Bamberg its first 20-point lead. The home side was superior in all statistics: It picked up more rebounds (42:43), passed the ball better (22:16 assists), made more steals than the opposing side (7:5) and lost possession less (11:13). It was only with the score at 77:52 at the start of the fourth quarter that Bagatskis' players slackened their pace a little, allowing Würzburg to put a better complexion on the final score by adding a total of six threes in the final period. There was also an emotional scene for Bamberg: Exactly one year after suffering a serious knee injury, Elias Harris (5 points) returned for his first competitive game – and the fans ecstatically applauded the Bamberg stalwart as he came on.
Ainars Bagatskis commented: "We were able to capture an important win. Würzburg has a good, experienced team and dangerous three-point marksmen. We changed our tactics in defense compared to the first encounter and so forced them to concede turnovers. My team started aggressively, we controlled the game from the first to the last minute and finished the job in a focused way."