Würzburg
s.Oliver Würzburg loses to FC Bayern Munich by 63:68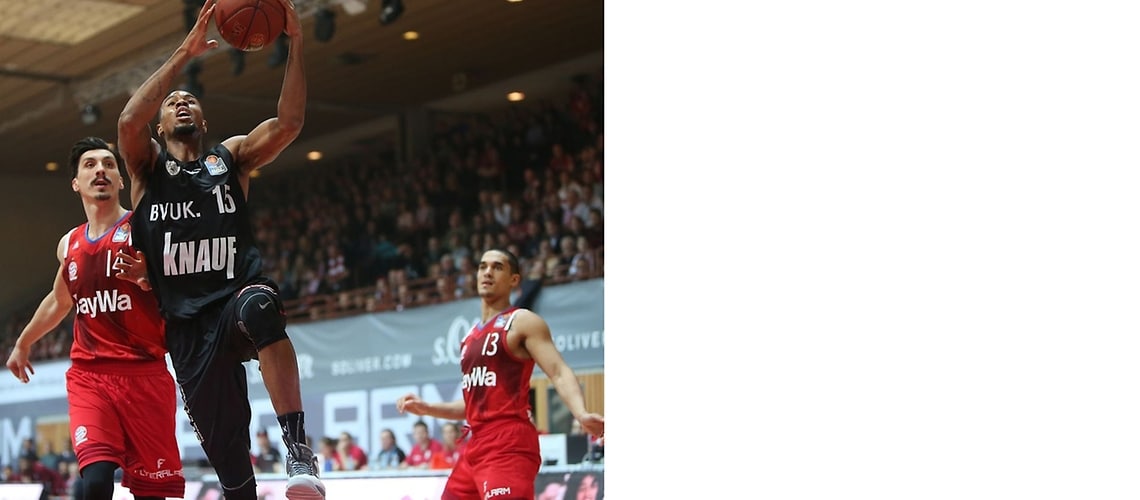 Würzburg, 01-28-2017
s.Oliver Würzburg and FC Bayern Munich produced an evenly poised game on Saturday evening in front of 3,140 spectators in the completely sold-out s.Oliver Arena Würzburg – but it was the visitors who came off better, with the club from Lower Franconia suffering a 63:68 (29:32) defeat. The visitors' strong free throw percentage and slightly greater cleverness ultimately proved crucial in a Bavarian derby in which both sides fought with very keen intensity. The game's top scorer was Lamonte Ulmer with 24 points.
Head Coach Dirk Bauermann had promised free beer for all fans going into the game – subject to two conditions: If his side beat Bayern and its defense also forced Munich to shoot an air ball while attempting a three. Unfortunately, only one of them was fulfilled: At the end of the first half, when Anton Gavel set himself up for a shot from downtown that was well defended against and at most reached the height of the loop at the highest point of its trajectory. As Bauermann explained after the game, the fact that his side was not able to defeat its third-placed opponents was down to "a few minor things."
Krešimir Loncar returned from illness, but Bauermann was without the likewise ill Max Ugrai on Saturday. Of all players on the visiting side, it was the former Würzburg player Maximilian Kleber who was not fit enough to play at his old club. Munich's squad also did not include new signing Maik Zirbes. From the very first second, the crowd saw an evenly matched encounter in which both teams tried to make life difficult for each other with intensity and aggression in defense.
"We had the second-weakest defense in the league going into the game. Today we allowed a top team like Bayern Munich to chalk up a field goal percentage of just 34. That's sensational," emphasized Bauermann. In the first period, it was Lamonte Ulmer who started as if he wanted to decide the game single-handedly. He drained his first three buckets from beyond the arc and added a lay-up with a bonus free throw to make it 14:11 in the seventh minute – by which time the 26-year-old had a haul of twelve points to his name on his way to helping the home side take a 21:18 lead after the first period.
Yet that was to change: Munich stepped up a gear in defense as the game went on – in the second period, the home side was not able to make such a mark in attack, scoring just eight points. Danilo Barthel put the club from Upper Bavaria 27:28 ahead in the 27th minute with two free throws, but the first half ended with Würzburg trailing by 29:32
The first five minutes after the break also belonged to the third-placed team, which continued to be very tight in defense and was able to open up a 38:50 gap by the 35th minute. Nevertheless, Würzburg's fans continued to get behind their team as one – and were rewarded with a comeback. Mustafa Shakur, Krešimir Loncar, Marshawn Powell with a quick and clinically taken three and a bucket by Lamonte Ulmer after an offensive rebound helped produce a run of 9 points without reply in the space of three minutes to reduce the gap to 47:50. The lead remained the same by the end of the quarter.
Ulmer then drained another bucket from downtown to open the final period (52:52). After that, each team only had one shot from the floor thanks to strong defending from both of them. However, Munich won free throws more frequently than the home side and converted a high percentage of them – 13 out of 14 in the final quarter – and so the tight game tilted Bayern's way in the last four minutes.
Krešimir Loncar cut the gap to 61:62 with 45 seconds to go, after which Munich stopped two Würzburg attacks in a row. Vladimir Lucic and Reggie Redding then buried their free throws to make it 61:66 with twelve seconds to go and so seal victory for Bayern.