Großheirath
Patrik Dinkel: Two overall wins in a row ahead of 2nd DRM round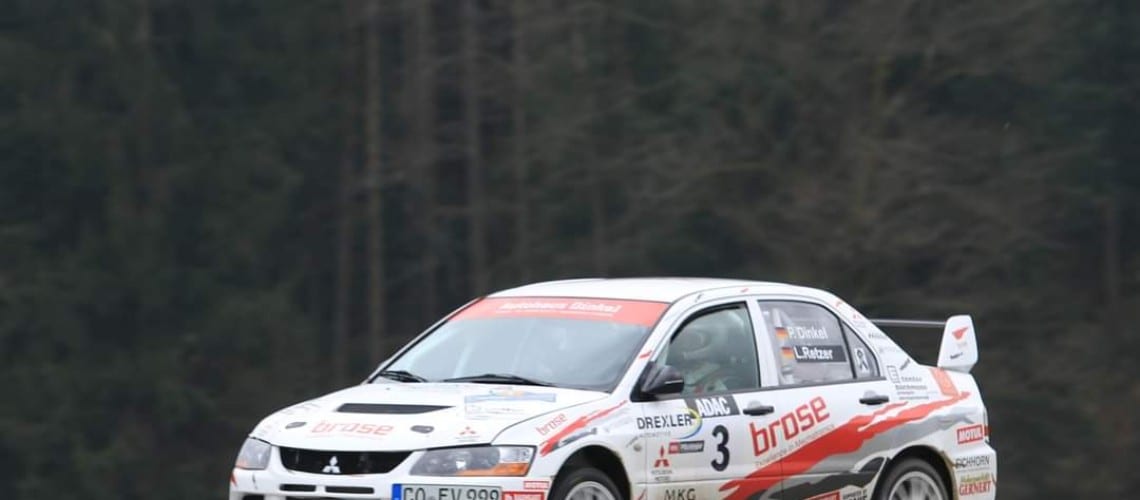 Großheirath, 05-01-2023
Exciting weeks are in store for 26-year-old Patrik Dinkel from Großheirath near Coburg. After his two overall victories at the Rally Sprint Hof (April 23) and at the 10th anniversary of the Rally Fränkisches Weinland (April 29), which he clinched in the Mitsubishi Lancer Evo 9RS with co-driver Monique Voigt, the 2nd round of the German Rally Championship in Sulingen (May 5/6) is on the agenda this week.
High-tension from the first meter to the finish
The 10th ADAC Rally Fränkisches Weinland with start and finish in Elfershausen developed into a real thriller. "We started optimally into the event and were able to set the fastest time on all stages in the first loop," Patrik Dinkel visibly summed up the situation during the break. When looking at the results, a time penalty of 10 seconds suddenly appeared due to a contact with the chicane in the third special stage "Lagerberg" near Hammelburg. As a result, the lead they had built up melted down to just three seconds over their closest rivals John Macht / Michael Teufel, who were also at the start in the Mitsubishi Evo.
"That's why we had to attack fully until the last meter and couldn't afford another mistake. Overjoyed and with two more best times we reached the finish and could celebrate the second overall victory within a week," beamed the sympathetic co-driver Monique Voigt at the award ceremony in the packed Schwedenberghalle.
The week before, the rally sprint of the AC Hof in Schwand, a small but fine event on Sunday with three sprint stages, had been preceded by Patrik and Monique, who, after a faultless drive, finished victorious with a good 20-second lead over the experienced Reinhard Honke / Karsten Bendig in the BMW M 140i X-Drive and Thomas Sobek / Hartmut Geist in another Mitsubishi.
Looking forward to the 2nd round of the German Rally Championship
Already this week, the second round of the German Rally Championship will take place with the 34th Rally Sulingen. Here Patrik Dinkel will start with co-driver Lisa Retzer, with whom he already achieved a good result at the Easter Rally Tiefenbach. With almost 140 vehicles, it comes to the summit meeting of three nations, because in addition to the German, this run also counts for the Dutch and Danish championships. "We are looking forward to the challenge and the international comparison - the former IVG site, which is not dubbed the "rally labyrinth" for nothing, takes on a special significance this year with four special stages. So far, I've only driven there once and the anticipation is huge," says the youngest scion of the Dinkel dynasty, highly motivated ahead of the journey north.