Bilbao
Audi Autotest Motorsport Team already secure the manufacturer's championship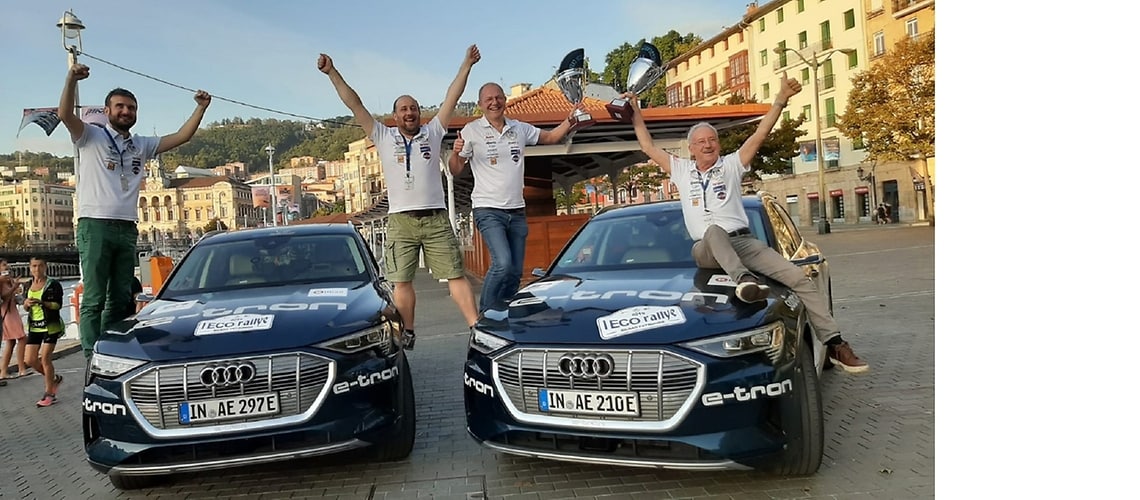 Bilbao, 10-13-2019
The first title of the season is in the bag: The Audi Autotest Motorsport Team from Lana has clinched the manufacturer's title even before the penultimate stage of the FIA Electric and New Energy Championship. Yet there was even more to celebrate for the team from South Tyrol in Bilbao.
Fuzzy Kofler and Franco Gaioni finished second in the Eco Rally Bilbao-Petronor to extend their lead in the pilot's and co-driver's championships, since their pursuers Artur Prusak/Thierry Benchetrit finished 7th and so dropped valuable points. Defending champions Didier Malga/Anne Bonnel were also unable to do much more than cut their losses and finished in 8th spot. Victory went to the local heroes Asier Santamaría/Roberto Rentería, who took the lead on the first day of trials and did not relinquish it right to the end of the Sunday. It was the first win of the season for Santamaría/Rentería. Third place went to Jose Manuel Cortés/Joseba Rodriguez, who were second ahead of Kofler/Gaioni after the first day. Things did not go as hoped in the Basque Country for the second pair in the Audi Autotest Motorsport Team, Guido Guerrini/Emanuele Calchetti. The duo, who have one win under their belt this season, had to be satisfied with 12th this time.
Going into the penultimate race of the season, the Audi Autotest Motorsport Team have already clinched the manufacturer's title with 121.5 points, much to the delight of team principal Josef Unterholzner: "I'm incredibly proud of my team. We've all worked hard for this. Special thanks naturally go to our invaluable partners and sponsors, without whom we wouldn't have been able to win the world title. Now all we're missing is the pilot's and co-driver's championships."
With two races left, Kofler/Gaioni are in the lead (118.25/116.25 points) with a total of eight podiums (including three wins) in the pilot's and co-driver's standings, ahead of Prusak/Benchetrit (103 points each). The e-rally championship continues in Monte Carlo from October 23 to 27, while the finale will be staged in Spain in mid-November.