Sachsenring
Back on the podium - Christian Engelhart sets an example at the start of the "2021 Autumn Season"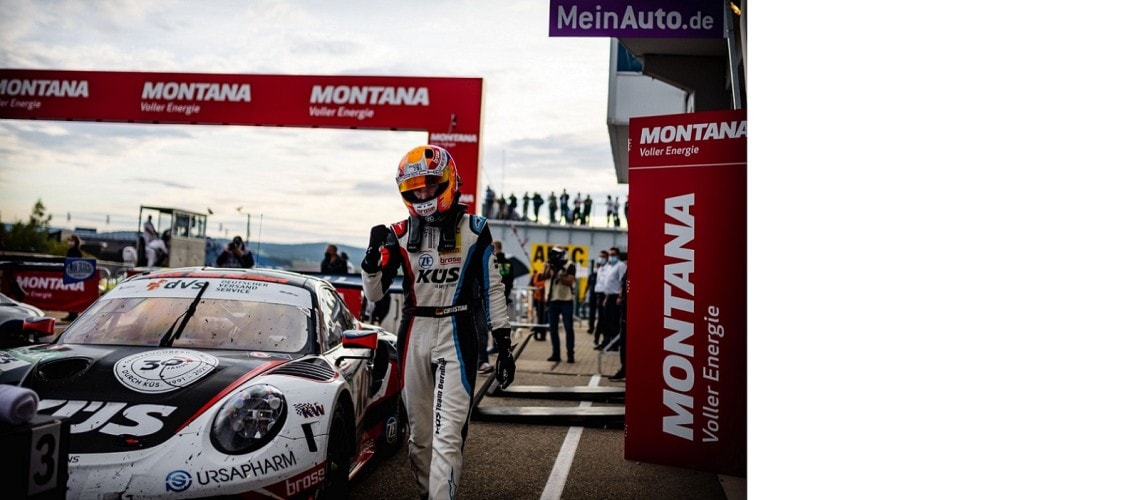 Sachsenring, 10-03-2021
Carrying the momentum of the previous week, that was Christian Engelhart's premise for the race weekend at the Sachsenring. But the Starnberg driver, together with his teammate Thomas Preining, was able to up that pace once again in the German GT Championship - and secured the first podium of this year's ADAC GT Masters season with third place.
"Finally back where we belong" Christian Engelhart breathed a sigh of relief early on Sunday evening at the Sachsenring. "A great fight, very thoughtful racing and a strong start phase from Thomas - all that brought us third place in the end... and my maneuver in the last corner." It was exactly this "last maneuver", when Christian passed the Lamborghini on the proverbial last meters from 4th to 3rd place to the front, that decided the race.
"It was already going very well for us with fifth place on Saturday. Then I knew there could be more for us here. We were certainly very lucky not to be involved in the collisions at the start of the race. But to be honest, we've already had enough bad luck this season, so at some point we had to get lucky again."
But after that, it was mostly hard work for the duo in their KÜS Team Bernhard Porsche GT3 R. They were rewarded with a standing ovation from the numerous fans at the Sachsenring, who not only cheered them on in the grandstands but also finally got to come back to the pit lane for the pitwalk. "This is quite important for us drivers as well. I really enjoyed being able to welcome guests from my partners, explain our Porsche GT3 R up close and just be in an exchange with them."
Christian's focus on the challenging Sachenring was never lost. The circuit in the automotive region of Zwickau is characterized by its fast uphill and downhill passages and with curves that are sometimes impossible to see. In addition, the lap of the 3.645-kilometer traditional circuit is driven counterclockwise. "What sounds so banal actually has an impact on our driving style and above all on the tires. All an even more important factor is the right tactics in dealing with the Pirelli racing tires and sensitive driving."
Christian and his team succeeded well in this - both in qualifying and the race on Saturday, as well as in the successful race on Sunday.
"With a little more luck, it would also have been enough for second place. But honestly: I am very happy with the result and the performance of the whole team! Thanks to Timo and my guys!", the Porsche driver summarized the decisive maneuver with a smile, grabbed his trophy and enjoyed the moment of success at the Sachsenring with his teammate.