Oldenburg
Basketball: Brose Bamberg loses again due to weak final quarter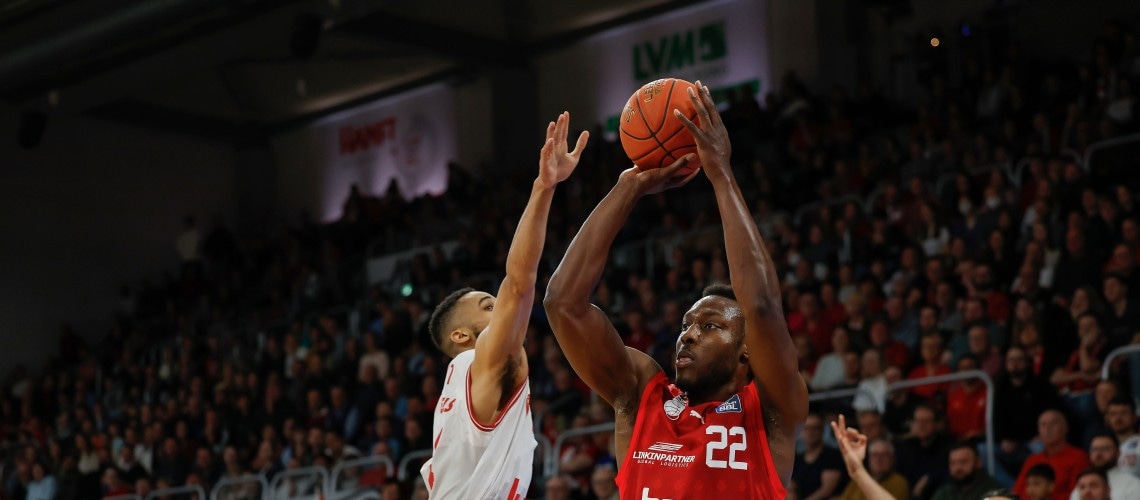 Oldenburg, 04-23-2023
Brose Bamberg did not take this chance. While all competitors for the play-off places seven and eight, Ulm, Würzburg and Rostock, already lost on Saturday, the Amiel team could have been the big winner of the matchday with a victory. But Bamberg did not take advantage of a 75:70 lead early in the fourth quarter in Oldenburg. Bamberg lost 95:104.
Offensively, coach Oren Amiel's team is the second best in the league, which should have been enough for a play-off place four even with an average defence. But the team spoils this statistic with a defensive performance that is close to the relegation places, only Heidelberg and bottom of the table Bayreuth catch more baskets.
After a better start for Oldenburg, Bamberg chased a 14:20 deficit and came back thanks to centre Solomon Young 19:20, Gerel Simmons and new playmaker Devon Thomas completed the 14:0 run to lead 28:20. For four minutes, Bamberg held Oldenburg without a basket, but did not keep up the defensive work in the second quarter. After three losses of the ball by Bamberg, Oldenburg equalised at 45:45. In the third quarter, no team was able to pull away and the final quarter began with a score of 70:70. And it started well for the Amiel boys: Young's three-pointer, Kevin Wohlrath's dunk, 75:70 lead. But then the momentum swung clearly: Two and a half minutes before the end, Oldenburg had already pulled away to 83:92. Thanks to Miller, Bamberg was back on 92:96 with 53 seconds to go, Oldenburg threw away the next attack. But Spencer Reaves lost the ball, quick attack by the hosts, 92:99, game decided.
Oren Amiel: "Offensively, we did what we wanted to do, found the people, created plays. Our problems were on the defensive side. It's a repeated case of us scoring 90-plus points away from home and not winning the game."
On Saturday, 29 April 2023, Brose Bamberg will have to play away at HAKRO Merlins Crailsheim. Jump in the Arena Hohenlohe is at 6 pm.
Further information at www.brosebamberg.de and www.easycredit-bbl.de.