Bamberg
Basketball: Brose Bamberg overturn 18-point deficit and win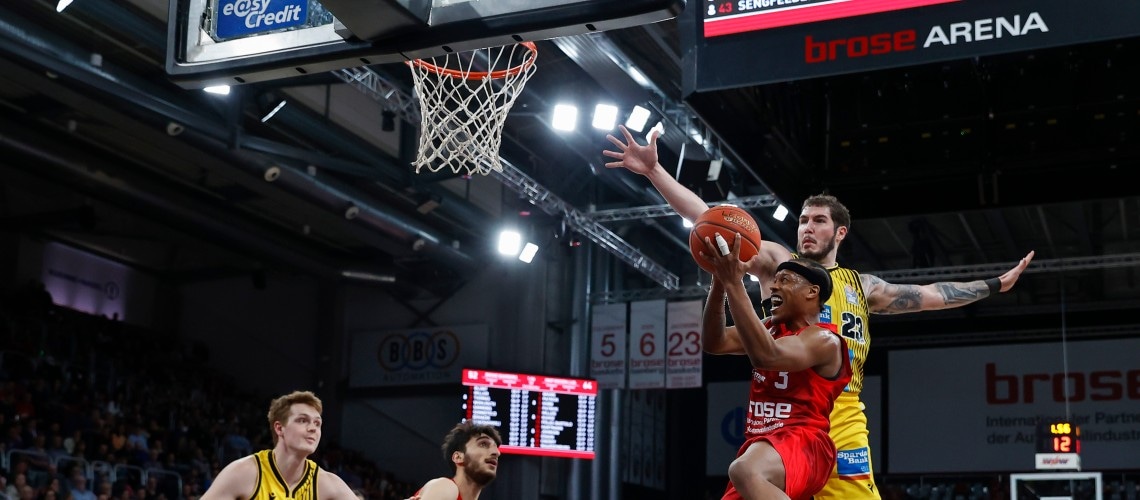 Bamberg, 04-12-2023
In an early game of the 29th matchday, Brose Bamberg celebrated a completely unexpected victory: the Amiel team beat the MHP Riesen Ludwigsburg 81:73, although the Bamberg team seemed to be far behind by 18 points shortly before halftime. But with an unbelievable energy performance, the home side turned the game around - and thus keep their small chance of making the playoffs alive.
The 3,656 Bamberg fans waited three and a half minutes for the team's first points, Jaromír Bohačík and Kevin Wohlrath turned the 0:5 of the opening phase into a 6:5 lead with two threes. Until the end of the 19:20 quarter, the lead changed in almost every attack, after Solomon Young's three-pointer for 22:20, only the Swabians hit their distance shots. The Ludwigsburgs gave the Amiel boys seven threes in the second quarter, the gap increased to 31:49. Only Gerel Simmons fought back against the deficit, scoring five points in a row to reduce the gap to 36:51 at the break.
The Bamberg team came out of the dressing room more determined and aggressive. But until 52:64 two minutes before the end of the third quarter, the guests always had an answer ready. Now the new guard Devon Thomas and Gerel Simmons took over, while Patrick Miller could rest on the bench: Thomas cut through the entire guest defence and hit a strong basket, Simmons moved to the basket twice in a row only to be stopped by the guests with a foul - four free throws, all in. And in the next Ludwigsburg attack, Simmons stole the ball, fastbreak, two points - Bamberg up 60:64!
Although the guests interrupted the 8:0 run of the home team and regained the double-digit lead at the beginning of the final quarter, in the last seven minutes the Bamberg team - and especially centre Solomon Young in the defence - outgrew themselves. The guests did not get any easy throws since the middle of the third quarter, in the last seven minutes only one free-throw point was added. And Bamberg's top scorer Patrick Miller came up trumps - the point guard scored ten of his twelve points during the 14:0 run with which Bamberg regained the lead. The final point of an outstanding second half was made by Patrick Heckmann, who hit a three-pointer from ten metres with the siren to make it 81:73.
Oren Amiel: "Ludwigsburg completely controlled the game for 27 minutes. Then we managed to flip the switch. All the praise I can give my players for that. At the end of the day, it was a great win against a strong and very talented team."
On Sunday, 16 April 2023, Brose Bamberg will have to face third-placed FC Bayern München. Jump in the Audi Dome is at 6 pm.
Further information at www.brosebamberg.de and www.easycredit-bbl.de.