Strullendorf
Basketball: Brose Bamberg wins against Phoenix Hagen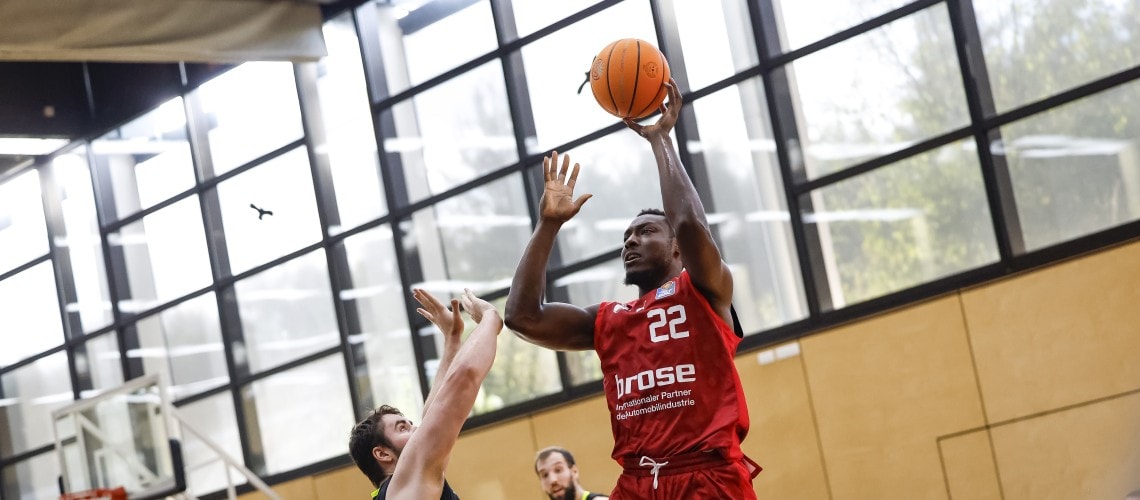 Strullendorf, 09-07-2022
Brose Bamberg secured its second success of the preseason with an 89-84 win over Phoenix Hagen. But much more important than that: the recently injured Wohlrath, Bell and Chachashvili were fit for action again and did their job well straight away.
Three back, one gone - that was the motto before the game. Kevin Wohlrath, Amir Bell and Gabriel Chachashvili were back on the floor for the first time after their injuries, but Justin Wright-Foreman had to miss out. The setup man had an abscess on his thumb removed, so he is condemned to watch for a few days. He saw in the first quarter a game that was characterized by inaccuracies on both sides. The guests from Hagen put these away first and put Brose behind by four points after seven minutes: 12:16. Bamberg, however, answered promptly - and now also more accurate. A 9:0 run turned the four back into five ahead within 120 seconds and brought the score to 24:19 in the quarter. In the second period, the ball ran better in the Broses game. 15 assists were on the books at the break, a good score. After 17 minutes, the Bamberg lead was 13 points at 48:35. At halftime, twelve of them were still left, with 49:37 into the cabins.
Six quick Bell points ensured a 15-point lead right at the start of the second half (55:40). However, the home side let this be taken away again, as Hagen hit two three-pointers in a row and also repeatedly set pinpricks in front. After a 0:12 run, the lead had shrunk to five points midway through the third quarter: 60:55. Brose's insurance in these phases, however, was Spencer Reaves, who hit threes whenever he had to. Before the last ten minutes, the Bamberg lead was six points. Hagen tried a lot to turn the deficit into a lead from their point of view. Brose, however, held its own, was now a bit more secure defensively and, above all, managed to disarm the Hagen long-range shooters time and again with strong blocks. Finally, it was Patrick Heckmann who made three free throws to secure the 89-84 final score.
Brose Bamberg's next match will be at 5 p.m. on Sunday, when AS Monaco, probably the strongest opponent, will arrive at the training center.