Ulm
Basketball Bundesliga: Brose Bamberg concedes 17 three-pointers in Ulm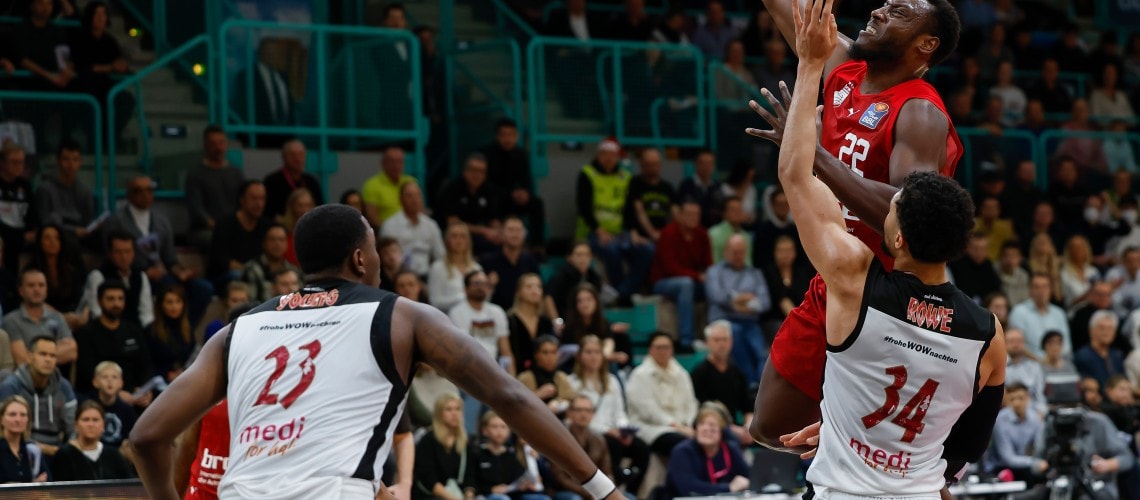 Ulm , 01-28-2023
Since December 2016, the ratiopharm Arena has been a good place for Brose Bamberg - each time the Bamberg team left the floor victorious. But on Saturday, they suffered a bitter 87-107 defeat at their league rivals ratiopharm Ulm.
Four of Ulm's first five goals were three-pointers, and the hosts made up for two of their three misses thanks to offensive rebounds and second-chance points. Bamberg trailed 12:14 after three minutes. Because playmaker and ex-Ulmer Patrick Miller performed strongly and contributed ten points in the first quarter, Bamberg led 25:24 after quarter one. Top scorer Solomon Young flourished in the second quarter with seven points and let his team rejoice with a three-pointer from the fast break at 35:29. But Bamberg squandered the lead again by halftime.
Christian Sengfelder increased the lead to 56:52 with a basket, Ulm answered with a 0:11 run and three three-pointers by Dos Santos to 56:63. But the defensive performance did not get any better, on the contrary: although Ulm even had the worse overall shooting percentage, they were able to fire 17 more three-pointers at the Bamberg basket thanks to 19 offensive rebounds. Ulm continued to pull away, Bamberg had no chance to shorten the gap at any time.
Oren Amiel (head coach Brose Bamberg): "Ulm played ten times better than us. They embarrassed us in every situation, they won every physical duel. We didn't bring the will and respect for what we are doing here. That's why Ulm deserved to win."
On Wednesday, February 1, 2023, Brose Bamberg must win at home against Keravnos BC to have a chance to advance to the FIBA Europe Cup playoffs. Jump is at 8:00 pm.
For more information, visit www.brosebamberg.de and www.easycredit-bbl.de.