Berlin
Basketball Bundesliga: Brose Bamberg fails in Berlin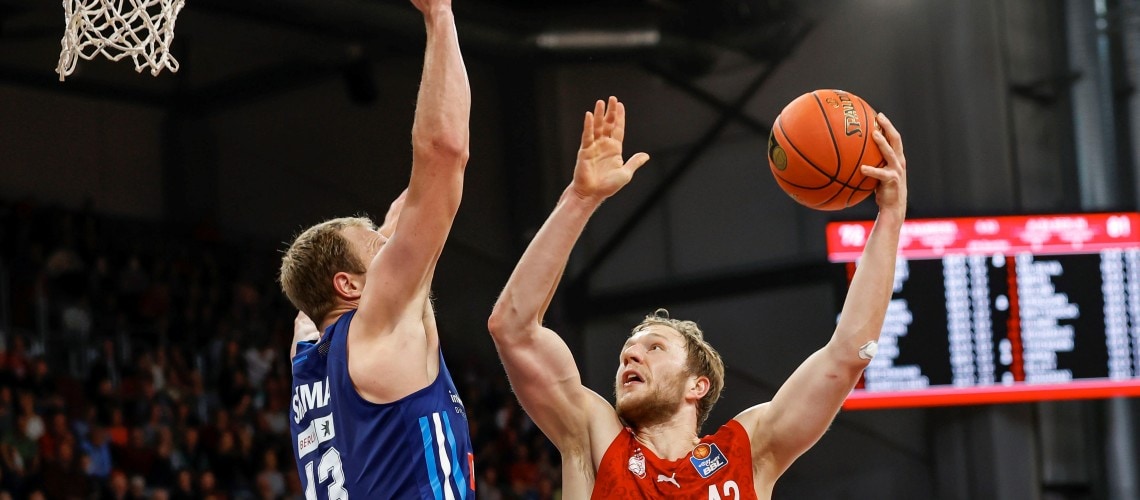 Berlin, 04-22-2022
After the change of ends, the Bamberg fans briefly had a glimmer of hope when Christian Sengfelder scored seven points in a row to make it 36:47. But an unsportsmanlike foul by Chris Dowe after a bad pass resulted in a 0:6 run by Berlin. Bamberg went into the last ten minutes with a 41:64 lead and the game was effectively decided. Besides Sengfelder, Akil Mitchell, Chris Dowe and Martinas Geben scored in double figures. However, none of the Bamberg players was able to prevent Berlin from pulling away until 57:89.
Oren Amiel (Head Coach Brose Bamberg): "The Berliners were superior to us in all aspects. They showed how to perform as a Euroleague team, were focused, played intensively. For us, it's important to process the defeat quickly, because the next game is an enormously important one."
On Friday, 29 April 2022, Brose Bamberg will have to play away at the MLP Academics Heidelberg.
After the two emotional one-point victories last week, Brose Bamberg was out of steam away at German champion Alba Berlin. Coach Oren Amiel's team was already down by 15 points after the first quarter. But the 57:89 defeat in the capital is not the end of the Bambergs' play-off dreams.
For their immediate play-off rivals - BG Göttingen and Merlins Crailsheim - also lost their games, leaving Bamberg in tenth place in the table, just one win behind Göttingen. In a possible three-way tie for the last play-off spot, Bamberg has the advantage over Göttingen in the direct comparison.
At the beginning of the game, the guests came back to 5:6 after a 0:6 start thanks to Chris Dowe's basket and Christian Sengfelder's three-pointer. By the end of the quarter, however, Bamberg had achieved nothing offensively and Berlin pulled away to 8:23. The second quarter remained even at 16:18, but it could not change the clear deficit. Sengfelder's goal in the first minutes was the only successful one of a total of 15 distance shots until the break, so the 24:41 at the break was logical.