Braunschweig
Basketball Bundesliga: Brose Bamberg gets lucky win at last-place team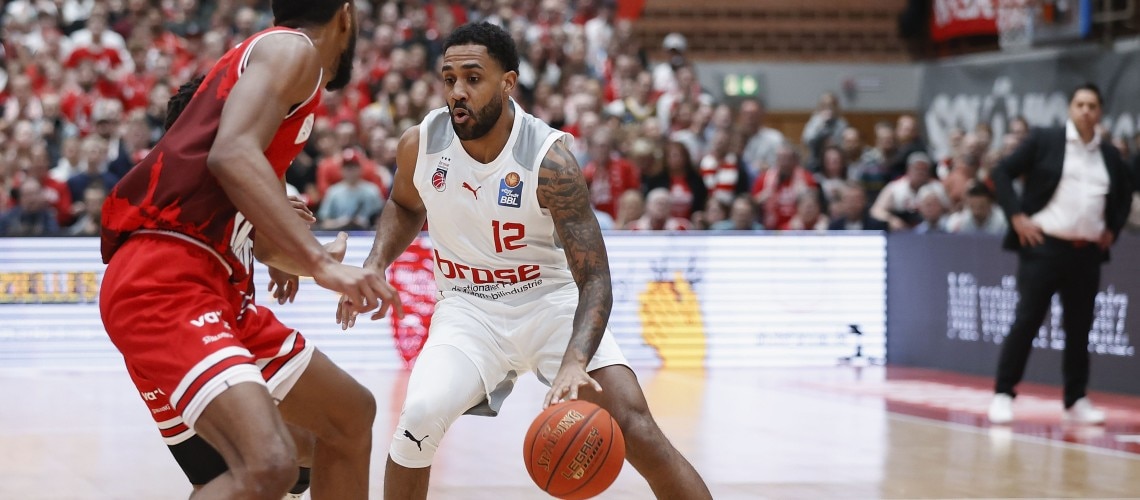 Braunschweig, 01-14-2023
Brose Bamberg is now just one win away from the playoff places. With its fourth Bundesliga win in a row, coach Oren Amiel's team has moved up to ninth place in the table. However, the Bamberg team had to fight hard for the 85-83 win at the bottom of the table, Basketball Löwen Braunschweig.
Bamberg did not live up to their role as favorites for two reasons: firstly, top scorer David Krämer, who had been injured for a long time, returned to the team, and two newcomers made their debuts. On the other hand, Bamberg's defense was less concentrated than in the past: 20 offensive rebounds were grabbed by the home side at the Volkswagen Arena, 14 2nd chance points were scored. This also explains why Bamberg started the second quarter with a very weak 4:18 after taking a 29:22 lead.
With five minutes to go, Bamberg trailed 72-77 - but Braunschweig missed three free threes and a basket, grabbed the rebound four times. Braunschweig's fourth three-pointer also missed, the ball fortunately bouncing out of bounds. And in return, Bamberg cut the deficit to 74:77, the game was open again. And playmaker Patrick Miller saved the 85:83 lead for the Amiel team with a three-pointer of his own, a nice assist to Christian Sengfelder for a distance throw and a subsequent basket with nine seconds to go. Braydon Hobbs just missed the free three-pointer for the Braunschweig win, top scorer David Kramer secured his 20th offensive rebound one second before the end, but blew the basket to tie the game. A lucky win for Bamberg.
Oren Amiel (head coach Brose Bamberg): "The rebounding killed us in a way - and that is unacceptable. But for that, Braunschweig also deserves respect, they did a good job there. "
On Wednesday, January 18, 2023, it comes straight to the early second leg against the Basketball Löwen Braunschweig. Jump in the Brose Arena is at 7 pm.
For more information, visit www.brosebamberg.de and www.easycredit-bbl.de.