Hamburg
Basketball Bundesliga: Brose Bamberg in play-off position for the first time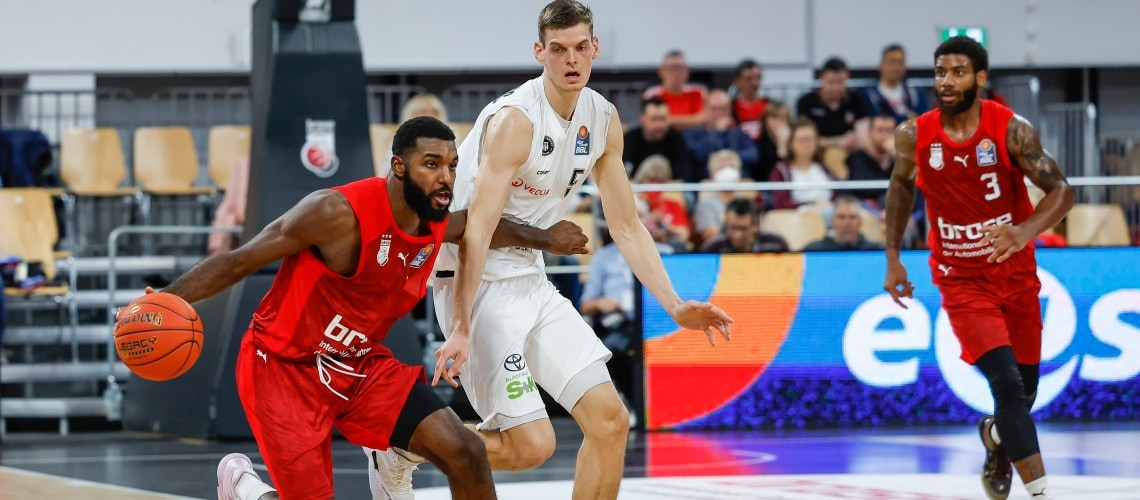 Hamburg, 03-03-2023
Brose Bamberg has come out of the national team break strong: 17 days after the resounding victory over ratiopharm Ulm, the Amiel team landed a deserved 88:83 away win at Veolia Towers Hamburg. With their fourth Bundesliga win in a row, the Bamberg team has now climbed to a play-off place for the first time this season, eighth.
Bamberg quickly took a 7:2 lead in the first quarter, but could not prevent the Hamburg hosts from rallying. Only after 17:16 did Spencer Reaves and Gerel Simmons hit two three-pointers for a six-point lead that lasted until the end of the quarter. Amir Bell increased the lead to 32:24 at the beginning of the second quarter, but in the following minutes the Amiel boys were no longer up to scratch, especially on defence. Hamburg used a 0:11 run to take their first lead, and playmaker Patrick Miller scored seven points in a row before the break to keep the deficit at a constant three points.
Shortly after the restart, the home side increased the lead to 47:54, but Bamberg did not let themselves be shaken off. Kevin Wohlrath in particular did his best to defend himself, the 28-year-old scored eight points in the third quarter and kept Bamberg almost alone in the game. Two distance shots, first by Kevin Wohlrath, then by Patrick Miller, gave the Bambergers the narrow 68:67 lead before the last period. And the Amiel boys showed no nerves, but played down the quarter in a firm and experienced manner. 90 seconds before the end, Hamburg again reduced the lead to one point, but in direct counter-attack, the strong Kevin Wohlrath made the game clear for Bamberg with his third three-pointer.
Head coach Oren Amiel: "We played badly defensively in the first half. That also made it more difficult for us offensively. Especially in rebounding and switching we had problems. We were able to improve that in the second half. In addition, some of the boys hit decisive shots. It's just nice to see how players develop, like Kevin Wohlrath for example. But it's about the team and all in all that was very solid again today. Also thanks to our fantastic fans."
This Monday evening, 6 March 2023, Brose Bamberg will play the first leg of the quarter-finals of the FIBA Europe Cup in Tallinn, Estonia: from 5.30 p.m., the Amiel team will play BC Kalev/Cramo.