Ludwigsburg
Basketball Bundesliga: Brose Bamberg makes up large deficit, but still loses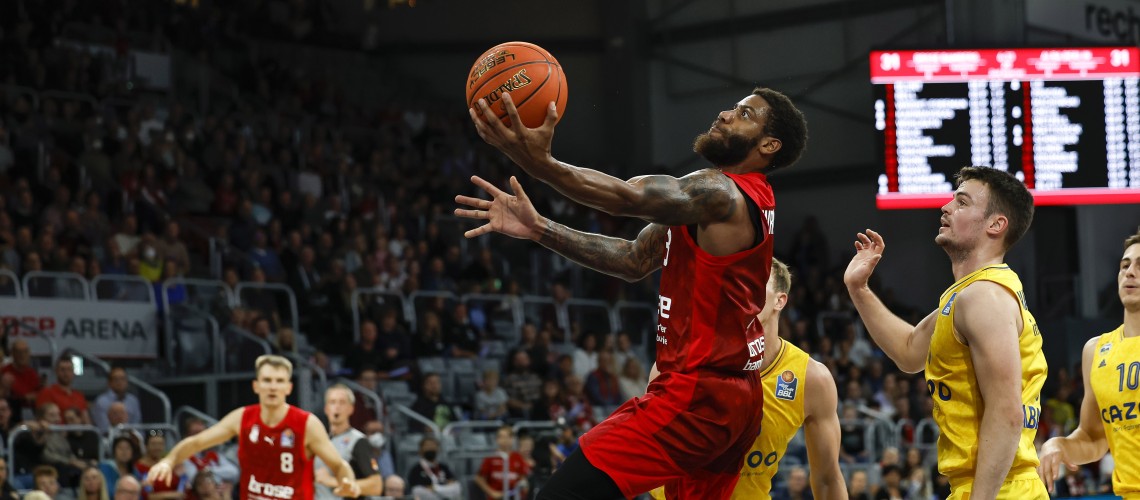 Ludwigsburg, 10-23-2022
Brose Bamberg continues to wait for its first win in the Basketball Bundesliga in the 2022/23 season, losing 78-94 at MHP Riesen Ludwigsburg, its fourth consecutive defeat in the national competition. After an interim 22-point deficit, the Amiel team fought its way back to 74-78 with four minutes to go, but the Bamberg team was unable to turn the game around.
A disastrous first quarter cost Brose Bamberg the away game at MHP Riesen Ludwigsburg. Before the Bambergers, unfortunately open like a barn door at the back, sank their first three-pointer after eight missed attempts, they were already down 15:32. Midway through the second period, Ludwigsburg sank its seventh distance throw and increased the Bamberg deficit to points. Until then, especially the playmakers of the guests remained weak, Vaidas Kariniauskas afforded himself four ball losses, Jaromír Bohačík four fouls, Justin Wright-Foreman threw the first four throws. But it was Bamberg's previous top scorer, Wright-Foreman, who woke up, hit two three-pointers, two basket shots and a free throw and kept Bamberg in the game at the break 40:53.
In the third quarter, the Bambergers could only reduce the gap by three points, as six three-point attempts, did not hit the target. In addition, the Amiel boys missed to make more points from their many offensive rebounds. With 61:71 Bamberg was still within reach before the final quarter. The top scorers Christian Sengfelder and Justin Wright-Foreman reduced the gap to 68:73, Jaromír Bohačík then also 74:78, but Ludwigsburg immediately hit a three-pointer each time.
Oren Amiel (Head Coach Brose Bamberg): "Ludwigsburg played dominant from the beginning. We chased them the whole time, but that's hard against a physically strong team. We have to learn what this league demands of us, which is speed, physicality, aggressiveness."
Already on Wednesday, Oct. 26, 2022, Brose Bamberg will host the Kosovars from Golden Eagle Ylli in the third matchday in the FIBA Europe Cup. Jump in the Brose Arena is at 8 pm.