Berlin
Basketball Bundesliga: Brose Bamberg's short team does well at Alba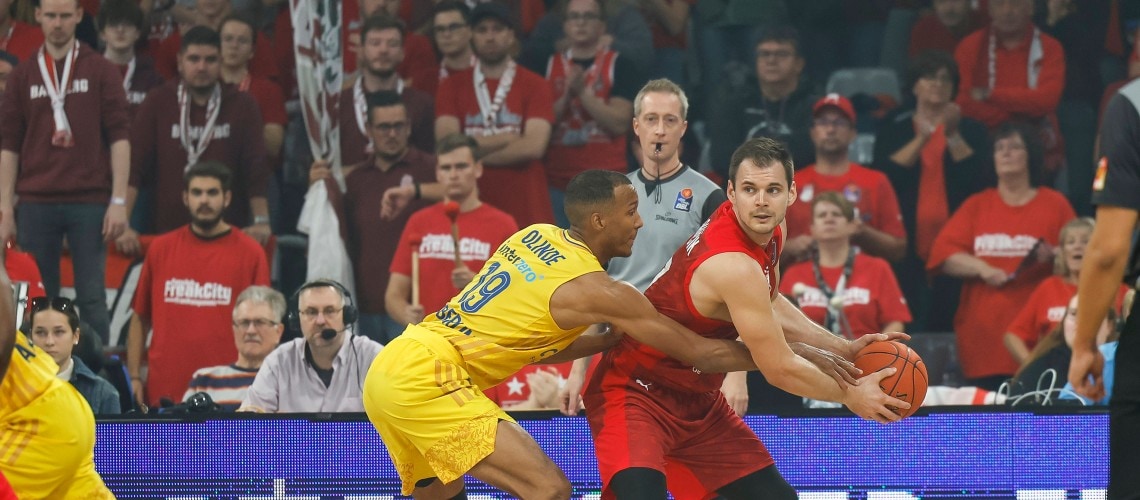 Berlin, 03-26-2023
Brose Bamberg have fallen out of the play-off places for the time being after their 67:84 defeat at league leaders Alba Berlin, but they can get back into the top eight of the table right away next Saturday in a direct duel against Würzburg.
Brose Bamberg's injury misfortune increased during the week. In the win over the Niners Chemnitz, captain Christian Sengfelder twisted his ankle again, Spencer Reaves also injured his ankle - both could not be present in Berlin alongside Amir Bell. Coach Oren Amiel filled out the Bamberg "short team" with youngsters Leon Bulic and Jannis Sonnefeld, both of whom, like Tyreese Blunt, had played for BBC Coburg in the ProB on Saturday night.
Shooting guard Bulic was allowed on the court in the strong first quarter of the Bamberg team and introduced himself well with his first Bundesliga three-pointer at 16:10. Especially defensively, the Bambergers stood well and forced the Berliners to seven ball losses and four of their own ball wins through good coverage and hard physical play. Although Berlin equalised three times in the second quarter, the Bambergers - or rather Patrick Miller - always prevented a deficit, which is why they were able to go into the half-time break with a 34:28 lead.
After the second half, Kevin Wohlrath briefly prevented Berlin from catching up with his layup for 40:36, but Berlin took control of the game with a 0:12 run, and Bamberg had to go into the last 10 minutes with a 45:59 lead after the 11:31 quarter. Top scorer Patrick Miller gave Bamberg hope again three minutes before the end with a basket plus bonus free throw for 64:70, but the home side shattered Bamberg's dream of an away win with a 0:9 run.
Oren Amiel: "We knew that we couldn't keep up with the Berlin tempo for the entire game. What counts in the end is that we played well for long stretches of the game. We now have to get our injured players fit again as soon as possible, we definitely need them in the play-off final spurt."
On Saturday, 1 April 2023, Brose Bamberg can reclaim eighth place in a direct duel against the Würzburg Baskets when the local rivals are guests at Brose Arena from 8.30pm. Bamberg won the first leg away from home with 79:73.
Further information at www.brosebamberg.de and www.easycredit-bbl.de.