Speyer
Coburg's winning streak continues in Speyer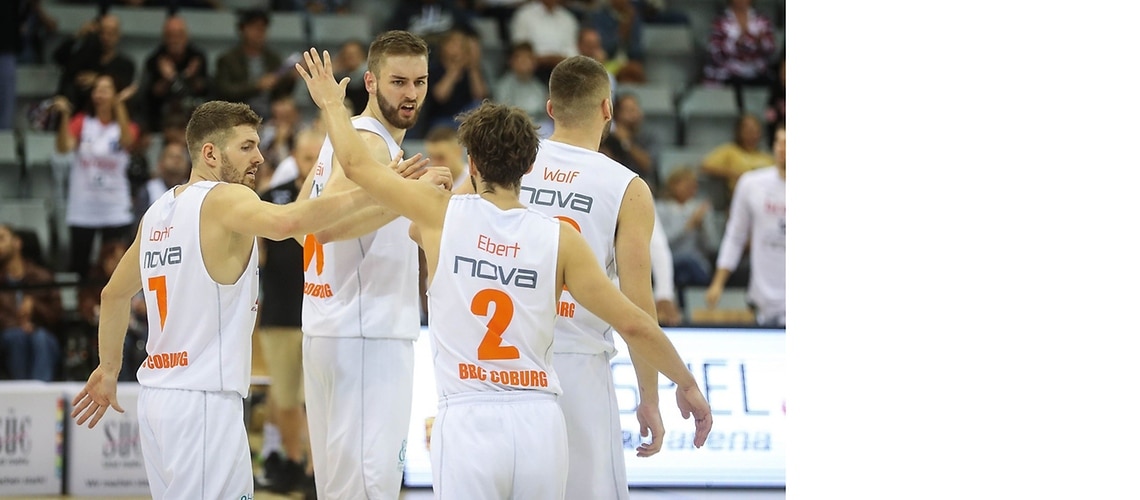 Speyer, 11-09-2019
BBC Coburg maintained its winning run in the BARMER ProB South 2nd German Basketball League on Saturday evening: Morgenstern BIS Baskets Speyer was also unable to halt the visitors, who ran out winners by 98:93 (57:54) to take the points away with them from Rhineland-Palatinate. Coburg has thus won four games on the trot – the second-longest winning streak in the league.
Only top-of-the-table Würzburg has been able to win its last five games. Yet the BBC is extremely content with the second-longest run: It now has the same number of victories as losses and is still in a playoff berth.
Yet it was quite an effort to accomplish that. The encounter proved to be full of attacking play and got off to a lively start: Two buckets from downtown by Sven Lorber made it 10:7 after two minutes, shortly after which center Moritz Bär added points at the board (21:13 in the 6th minute). The first period ended with the score at 31:26. The home side got off to a strong start in the second quarter and reduced the deficit considerably. When Daryl Woodmore cut the gap to just one point, the BBC's Head Coach Ulf Schabacker called a timeout (37:36 in the 13th minute). The Baskets were even able to snatch the lead briefly, but then youngsters Johannes Krug and Bär put Coburg back in front (46:45 in the 17th minute). Wolf made a buzzer-beater to make it 57:54 and bring the first half to a close.
It was initially Speyer who got into its stride better after the break. The home side even went 64:70 ahead in the 28th minute – its largest lead in the encounter. Princeton Onwas, who was in strong form, Daniel Urbano and Shore Adenekan scored by the end of the period, but Coburg still trailed 70:74 going into the last ten minutes.
And they were packed with thrills in what turned into a real nail-biter. Both teams kept in close contention the whole time and, when Tim Schwartz put the home side 88:84 ahead with three-and-a-half minutes remaining, Schabacker called another timeout. And it helped: Onwas and Adenekan equalized and then, when Lorber stretched the lead to 94:90 from the foul line with 20 seconds on the clock, the miens of the Coburg players on the bench relaxed. It was then left to Constantin Ebert and captain Christopher Wolf to seal victory from the line and notch up their side's fourth win in a row.
Despite the victory, Schabacker was not fully satisfied afterwards: "The game didn't go as we had wanted. At half-time, I flipped out a bit despite the lead because we weren't harrying and hassling Speyer. We actually wanted to annoy them more and defend more intensely," was the Head Coach's analysis, although he was able to grin right away: "The fact we won speaks volumes about the team."
He naturally also saw a lot of positives: "Princeton Onwas kept Kuppe completely out of the game in the first period. We made far fewer mistakes than otherwise and all in all we played at a good level. Winning in Speyer is tough. We've taken the next step, even though we can step our game up a notch, especially in defense: We've still room for improvement."