Coburg
Formula Student: Coburg University team presents anniversary vehicle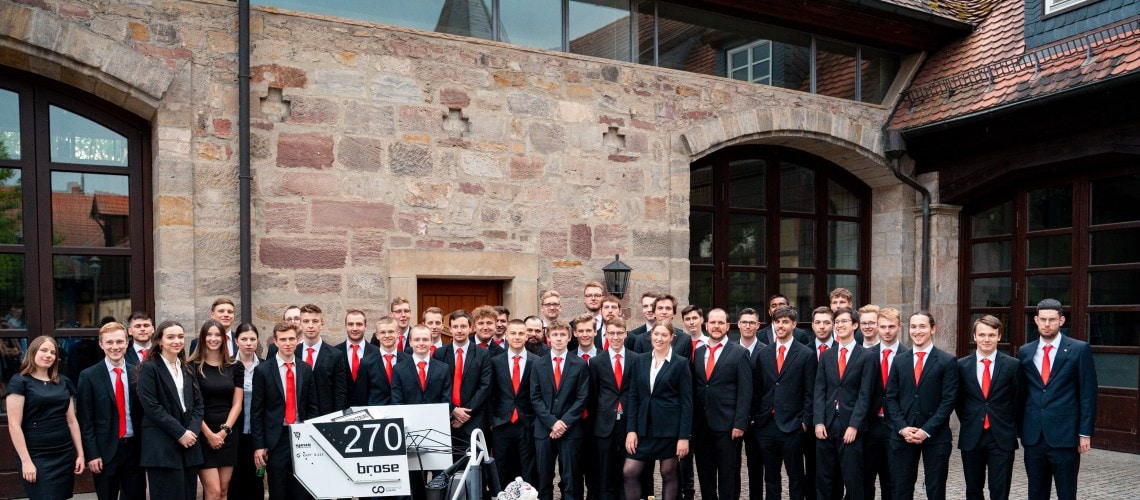 Coburg, 06-16-2023
The Formula Student Team of the Coburg University of Applied Sciences "CAT-Racing" unveiled its new racing car "Schneeleopard" last Friday. The Coburg team is thus celebrating its 15th anniversary at the same time.
In 2007, CAT-Racing was founded by 20 students and has been supported by Brose ever since. One year later, the team took part in the Formula Student Germany competition for the first time. Our family-owned company provides support not only financially but also professionally, including technical advice as well as the production of parts or the use of the crash test facility.
In the project, around 50 students from different courses of study such as automotive technology and management, electrical engineering, mechanical engineering and computer science work together over the course of several months to develop and manufacture a racing car, which they then compete against university teams from all over the world in competitions. The students compete against each other with their self-designed racing cars in various racing disciplines, but also in categories such as construction, financial planning and business model development.
"Successful cooperation with the universities at our company locations, and of course especially here in Coburg, is very important to us. That is why I am delighted about the long-standing cooperation between Brose and CAT-Racing, from which both sides benefit. I wish the team a successful season with many exciting races," emphasizes Stefan Krug, Executive Vice President Production, who is personally involved in supporting the university team.
Coburg University is an important regional education partner for Brose. A wide range of activities such as offering internships and theses as well as joint projects in the fields of additive manufacturing, electrical engineering and information technology, artificial intelligence, product design or health promotion provide access to highly qualified students and graduates and promote the transfer of knowledge between industry and research. Other examples of cooperation include events such as trade fairs and excursions as well as guest lectures and talks.