Coburg
Basketball Pro B: Hanau takes away victory from Coburg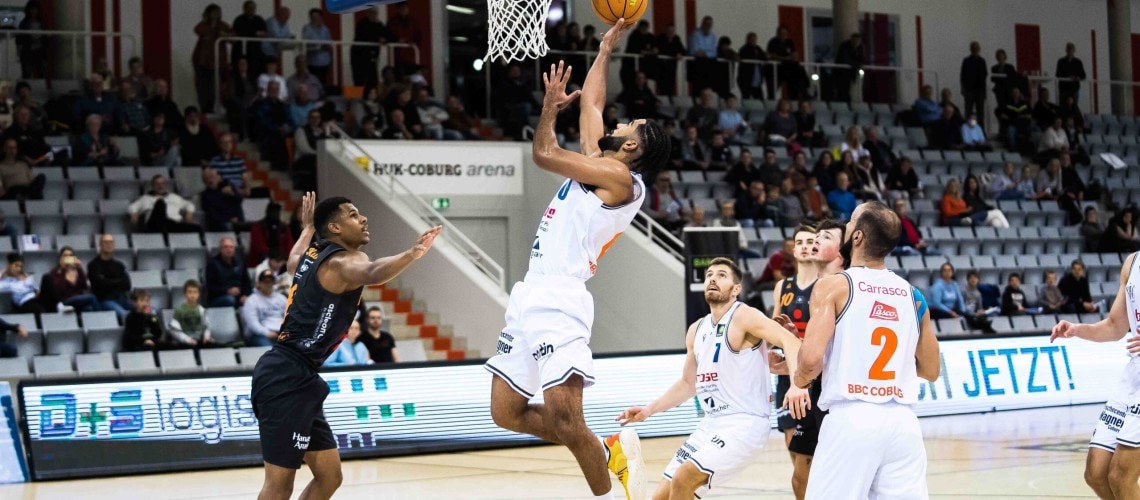 Coburg, 10-22-2022
Also in the second home game in the BARMER 2. Basketball Bundesliga ProB Coburg's basketball players remained winless. BBC Coburg lost to the White Wings Hanau on Saturday evening in the HUK-COBURG Arena with 80:92. The Vestädter thus conceded the third defeat in a row. The best scorer in the match was Hanau's Johann Albrecht with 21 points, while Bubba Furlong put up a double-double of 18 points and eleven rebounds. For the home side, Tyreese Blunt and captain Sven Lorber each scored 18 points.
"It's tough to win a game when you commit 26 turnovers. Today, we often failed to run the ball well and give it to the right players and then use individual action to succeed. We did force Hanau into 23 turnovers as well, and at the end of the day we had a chance to turn the game around," Jessie Miller said after the match.
Before that, she saw a game that started off scrappy. Already in the first period, ball losses dominated, Coburg gave away the ball eight times in the opening quarter alone, Hanau six times. The hosts quickly took the lead through Carrasco and Blunt, the resulting 4-0 advantage was to remain Coburg's highest lead of the game.
Until halftime, the BBC often remained hasty on the offensive, looking for success in quick counter-attacks, but lost the ball time and again. On top of that, there were some step errors and a technical foul by Carrasco. The White Wings often had to earn their points at the free-throw line - and they did that with bravura!
BBC Coburg delivered its strongest performance on the defensive end in the third quarter, which they won 22:15. After a 9:0 run, the hosts got within 50:55, had the White Wings reeling and the 400 loud Coburg fans in the arena behind them. However, the guests always had the right answers this evening and kept the upper hand until the end of the third with points from Dordevic and Hecker.
BBC managing director Wolfgang Gremmelmaier also saw room for improvement in the performance of the referees. "The referees should look at this scene again in the video. There were some decisions that were questionable. I also can't remember us ever winning a game under the leadership of referee Sebastian Hart. His current colleague was unfortunately hit by a beer mug here last season, so I don't understand why the league would send her back here just a few months later. She was obviously overwhelmed with the situation," Gremmelmaier said.
In the next away game next weekend, BBC Coburg will be under pressure in Karlsruhe and will have to get a win to still avert a complete false start to the season.
Source: www.bbc-coburg.de