Bayreuth
Bayreuth wins game 3 to trail just 2:1 in the series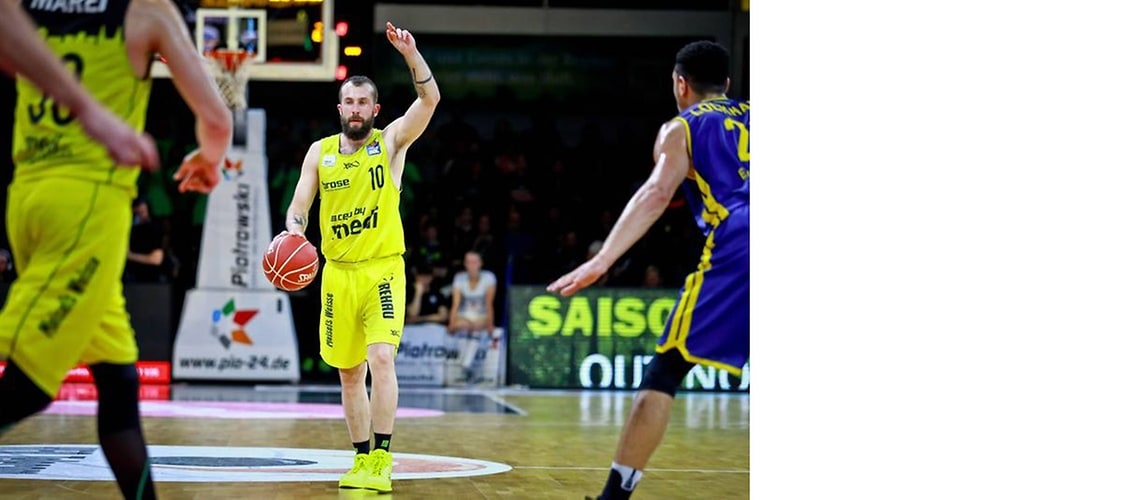 Bayreuth, 05-14-2017
It was once again the irrepressible will to win displayed by the team of Head Coach Raoul Korner that ultimately swayed the encounter in favor of the Heroes Of Tomorrow. medi bayreuth won game three in the playoff quarter-final against EWE Baskets Oldenburg by 98:94 (51:37) and so has pulled a game back in the series.
Brief summary of the encounter:
Bastian Doreth, who was included in the starting five, opened the game with a bucket from beyond the arc, after which Nate Linhart added points to give his side a quick 7:3 lead in the 3rd minute. Oldenburg struck back through Brian Qvale and, after a three by Massenat, went ahead for the first time, albeit only briefly. De'Mon Brooks put Bayreuth back in front in the seventh minute (13:12). The club from Upper Franconia built a 25:18 lead by the end of the period.
Assem Marei put his side ahead by double digits for the first time (29:18 in the 11th minute). medi initially held on to that lead, then stretched it further. As of the 16th minute, De'Mon Brooks and Trey Lewis each scored twice to make it 46:33. Five successive points by Amaize even extended the gap to 51:35 in the 19th minute – and the home fans went delirious.
Heroes Of Tomorrow kept the screws on after the break. A 3-point play by Trey Lewis and two buckets from Assem Marei made it 57:39 after 22 minutes. All attempts by the visitors to reduce the deficit failed –– for example Chris Kramer cut the gap to 47:59, but another plucky three by Bastian Doreth stretched medi's lead to 63:47 in the 25th minute. After that, the home side kept the pressure on and pulled away by 22 points at one stage: De'Mon Brooks made it 76:54 with 48 seconds left in the third period.
However, one Oldenburg player ensured an exciting end to the game: Frantz Massenat. He had not written his team off and scored almost at will in the final quarter. He had bagged six points up to then – but proceeded to add 22, almost all of them from downtown. The lead dwindled to 12 points (84:72) in the 35th minute and then to six after another three by Massenat (80:86 in the 37th minute), which forced Bayreuth to call a timeout. Massenat was now in full flow and, despite good defense, continued to drain shots from outside: With 38 seconds left on the clock, the gap had shrunk to just one point after Oldenburg's guard made it 91:92 at the second attempt. Yet the Heroes Of Tomorrow kept their nerves, stole the ball from Rickey Paulding – and De'Mon Brooks secured a well-deserved victory from the foul line.
Game four in the series is this Tuesday in Oldenburg. The tip-off in the EWE Arena is at 7 p.m.