Coburg
BBC COBURG captures first home win of the season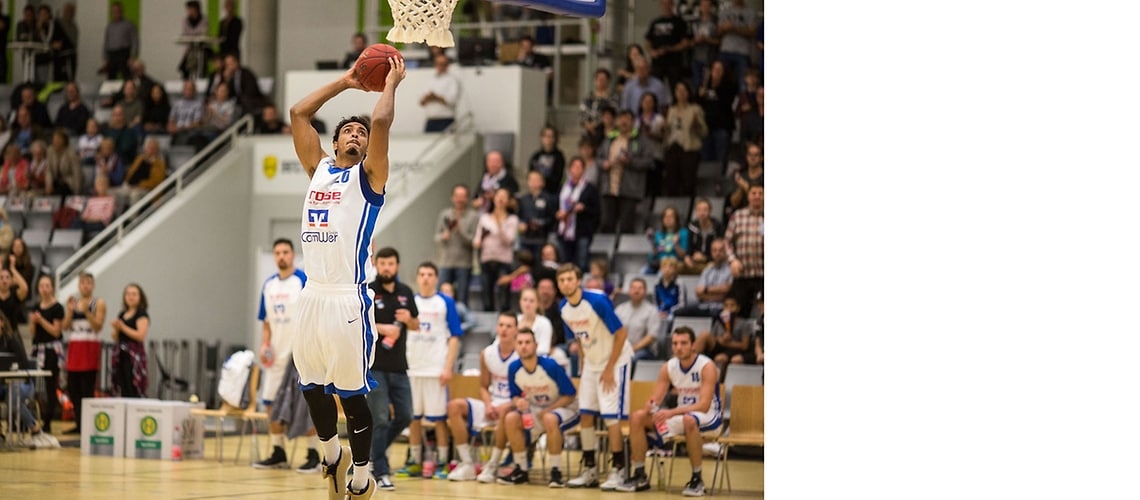 Coburg, 10-16-2016
After a subpar performance in their home opener a fortnight ago, BBC COBURG delivered a much-improved showing on Sunday and beat MTSV Schwabing in convincing fashion, 102:67 (48:41), for their first home win of the 2016/2017 1. Regionalliga season.
Under the watchful eyes of Michael Stoschek, Chairman of the Brose Group, the hosts got off to a quick start and went up 7:0 thanks to a Michael Herold three from the corner, a tip-in by big man Daniel Stawowski and a coast-to-coast layup by American forward Jordan Burris. After a timeout by Schwabing head coach Robert Scheinberg, his young squad enjoyed a brief rally, but a focused and dedicated Coburg team struck back immediately. Six successive points by Burris, a layup by center Manuel Imamovic, who converted a gorgeous behind-the-back pass by Croatian combo guard Sasa Gligorovic, and two Fabian Franke mid-range jumpers extended the BBC lead to 16 points (42:26). Then, however, BBC fell victim to repeated mental lapses on defense and allowed the visitors to come back in the game. Perimeter shots by MTSV guards Dominik Mrda and Christoph Wuermseher narrowed down the gap to seven points at half-time (48:41).
At the start of the third quarter, headcoach Simon Bertram's troops regained their composure. A stifling defense led to consecutive Schwabing shotclock violations. On offense, thanks to the ballhandling abilities of forwards Burris, Franke and Steffen Walde, they were not overly bothered by MTSV's infamous full-court press and simply relied on their point forwards when the opponent double-teamed the playmaker. Instead, point guard Kevin Eichelsdörfer found Stawowski on the pick-and-roll, Walde scored eight in a row and a sequence of beautiful ball movement culminated in an easy layup for Daniel Stawowski. When Jordan Burris, who filled the stat sheet with 22 points, nine rebounds, seven steals and four assists, lived up to his first name and converted an acrobatic layup in true MJ fashion, Schwabing threw in the towel (76:45).
The entire fourth quarter basically came down to garbage time. The crowd of roughly 700 went into celebration mode and erupted again when the burly Imamovic smoothly drained a rare three for BBC's 100th point of the night. Coach Bertram applauded a "solid collective effort" and praised his team's much-improved focus and body language. "This is what we put our emphasis on all week in practice", he added.