Leverkusen
BBC Coburg loses in Leverkusen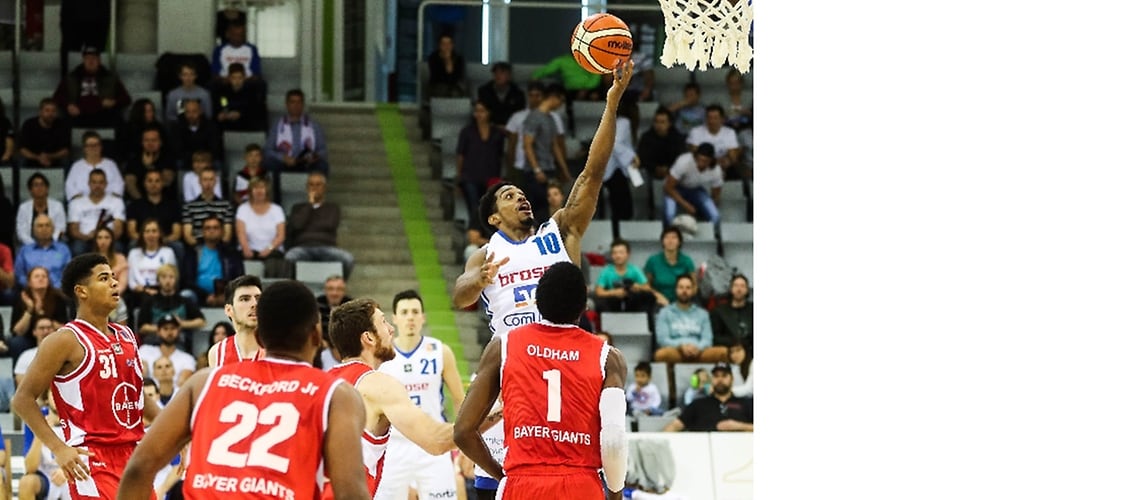 Leverkusen, 12-10-2017
An extremely decimated BBC COBURG put up a magnificent fight in Leverkusen for a long time and even led by 15 points at half-time. However, the team lacked reserves of strength at the end and suffered a 77:65 defeat.
The squad was pretty modest in size: The BBC's Head Coach Derrick Taylor was able to call on just eight players as a result of the fact that Christopher Wolf, Eividas Molosciakas, Daniel Stawowski and Sinan Özdil were missing through injury. Yet the shortage of players was not apparent to begin with, as BBC COBURG turned in a plucky display from the outset and took the lead for the first time midway through the opening period after a half-distance shot by Kevin Eichelsdörfer and two free throws from Byron Sanford.
A lay-up by Jordan Burris and Steffen Walde twice from the line even gave the visitors a double-digit lead after seven minutes (15:25). It was also the Californian Burris who really turned on the heat despite the icy cold outside the arena. The forward drained four perimeter shots in the second period. Burris then added a three-pointer and Walde stepped up to the foul line to stretch the gap to 29:44 at half-time.
Shortly after the break, Max von der Wippel was elbowed in a melee below the board, but was able to continue after a short breather. Coburg's players now gradually began to run out of puff and their shooting percentage plunged. The club from Upper Franconia managed to add a meager nine points in the third quarter and, to cap it all, Jordan Burris had to sit the game out on the bench after suffering a cut to his upper lip. After thirty minutes, BBC COBURG's lead had dwindled to six (47:53).
Jordan Burris opened the final period with his fifth bucket from downtown to make it 49:56. However, the strength of the visitors from Coburg then waned again. Burris and then von der Wippel committed their fourth personal foul. The Giants' wing Tim Schönborn, who finished as the home side's top scorer with 19 points, gave Leverkusen its first lead since the opening minutes from the foul line. The momentum was now clearly with the home side and it produced a 17:6 run to secure victory.