Bamberg
Brose Bamberg captures first win of the season against Gießen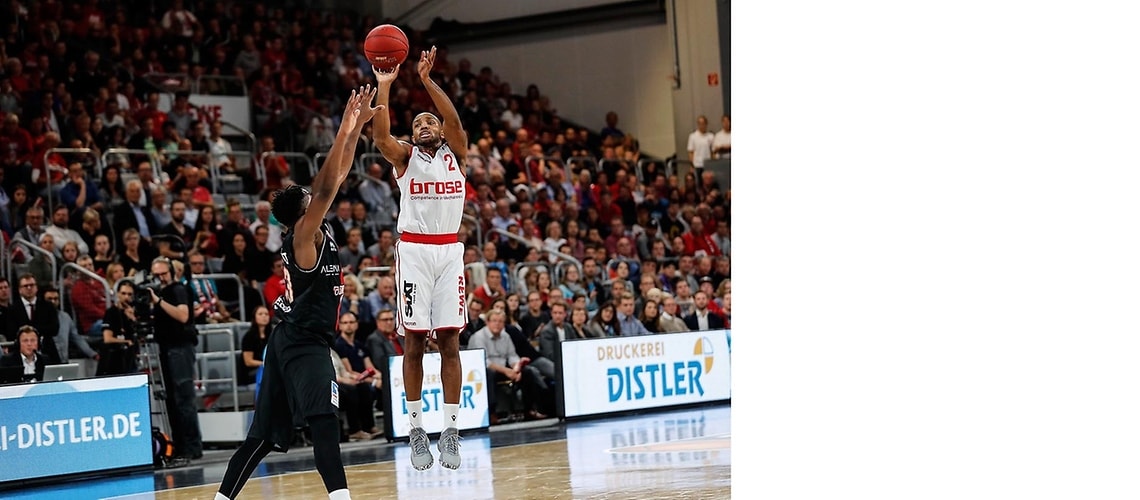 Bamberg, 10-03-2017
It was tight in the end, but a win is a win and now Brose Bamberg must look ahead and keep on working away. The reigning German champions were able to hold on to a 14-point lead they built in the third period – but not all that commandingly. Gießen 46ers clawed their way back and even went ahead with three minutes left. However, top scorer Maodo Lo turned the game around with two quick lay-ups after stealing possession to save Bamberg and help his team capture its first victory of the season by 87:84.
With eight foreigners in the squad, Head Coach Andrea Trinchieri again had to leave out two players. Daniel Hackett and Quincy Miller did not line up against Gießen and so Ricky Hickman and Luca Mitrovic made their debut in a competitive game for Bamberg. The Bamberg crowd has been accustomed to success in past years, but saw its team make heavy weather of things to begin with. Following the departure of Strelnieks, Miller, Melli, Theis and Causeur, Trinchieri's team is simply no longer the well-tuned team at the moment that "strolled" to the championship and cup titles last season. After being totally overhauled in the summer, the new Brose Bamberg has to fight hard for every point, in every tussle and for every ball. Gießen revealed the weaknesses in Bamberg's defense, scoring four open three-pointers and easy points thanks to numerous offensive rebounds and second chances to score in the first half. Bamberg trailed by 27:33 when the two players making their debut, Luca Mitrovic and Ricky Hickman, helped the champs get into their stride. The score stood at 44:37 at half-time, after which Bamberg was even able to pull away to 63:49. However, the lead caused careless mistakes to creep into Bamberg's play. Gießen capitalized on five turnovers to spark a comeback and drained five buckets from downtown in the final minutes. The upshot: The home side trailed by 74:75 with three minutes to go. But that was precisely when Bamberg's top scorer Maodo Lo (14 points) ran into top form – he first made a quick lay-up and then showed nimble hands to steal the ball from Gießen's playmaker Jamar Abrams and add another lay-up to put his side 78:75 ahead. At the death, the home side was also stronger from the foul line than in the season opener in Würzburg. In the final two minutes, Nikos Zisis, Mitrovic and Hickman buried seven out of nine free throws to seal victory.
Andrea Trinchieri commented: "Every season begins with a small step. We didn't look good in spells today. We've suffered many departures and now have to form our new players into a unit. We must improve our defending and rebounding. We have to work intensively on those departments in the coming days and improve them day by day."
The German champs now face two encounters in three days in the easyCredit Basketball German League this weekend: On Friday evening, October 6, 2017, Trinchieri's team faces newly promoted Oettinger Rockets in the Messehalle in Erfurt (tip-off: 8:30 p.m.). Bamberg then comes up against Walter Tigers Tübingen on Sunday, October 8, 2017 (tip-off: 5:30 p.m.).