Bamberg
Brose Bamberg captures two match balls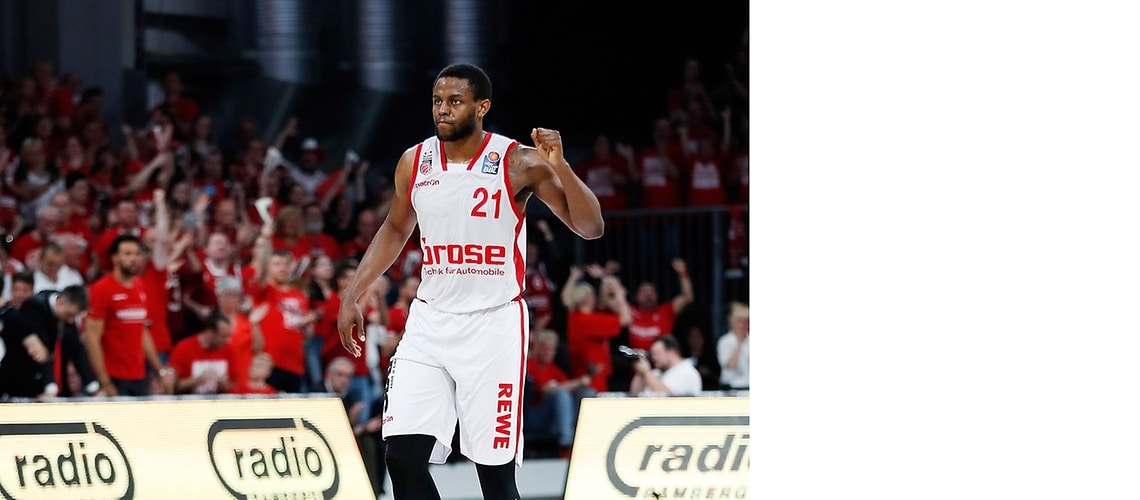 Bamberg, 05-14-2017
German champions Brose Bamberg thought it would have an easier job due to the fact that Bonn's outstanding playmaker Josh Mayo was missing. Yet the third quarter-final game against Telekom Baskets was on a knife's edge with four minutes to go. It was only a strong 17:4 finish that swayed the encounter and enabled the team of Head Coach Andrea Trinchieri to run out clear winners by 76:63 and go 2:1 up in the best-of-five series.
For 35 minutes, it was hard to tell that the club from the Rhineland was missing its point guard. The visitors made up for that loss with intense, extremely physical defending and so often caused Bamberg's flowing offense to get bogged down. Bamberg was hardly allowed any open shots and just four out of 14 attempts from beyond the arc found their mark. However, the home side likewise impressed with strong defense, with the result that Bonn did not get into its stride in attack. Bamberg always maintained a narrow lead, which Nikos Zisis increased with a three on the buzzer to make it 36:29 at half-time.
However, nothing came off for Bamberg in defense or offense after Darius Miller drained a bucket from downtown to make it 39:29: Bamberg gave Bonn far too much space at the back and hardly a shot dropped up front. Bonn quickly caught up (39:38) and the former Bamberg player Ryan Thompson deservedly gave his side an eight-point lead (43:51) with seven points in a row. It was symptomatic that, during Bonn's 11:0 run, the unchallenged Darius Miller smashed a slam-dunk against the hoop and the ball rebounded into play. Nevertheless, Brose Bamberg cut the deficit to four (48:52) at the end of the period thanks to a three by Lucca Staiger (13 points). Bamberg continued to trail narrowly for minutes, and then top scorer Nikos Zisis (15 points) capitalized on an unsporting foul to add a free throw and then a three to put his side 62:59 ahead. That released energy among Bamberg's ranks: Fabien Causeur, Janis Strelnieks (11 points) and Darius Miller (13) now drained their shots from outside to produce a decisive run of nine points without reply for the home side.
Andrea Trinchieri commented: "We were poor in the third period, didn't make our shots and dribbled holes in the court. It was more like we were playing handball, not basketball. Five people stood around at the three-point line, waiting for something to happen. But I'm to blame for that, not my players. Nevertheless: I love games like that, because it's an incredibly sweet taste to win after making adjustments in a game. I enjoyed how the game developed, because my team needs games like this. That was our 70th game of the season – and sometimes my team withdraws into its comfort zone. It's incredibly important for my team to have won, despite the fact that we were eight behind and weren't scoring a thing."
The fourth game in the quarter-final series against Telekom Baskets Bonn is in the Telekom Dome in Bonn on Tuesday (tip-off: 8:30 p.m.). A victory for Trinchieri's team will mean it qualifies for the semi-final.