Bamberg
Brose Bamberg defeats Bonn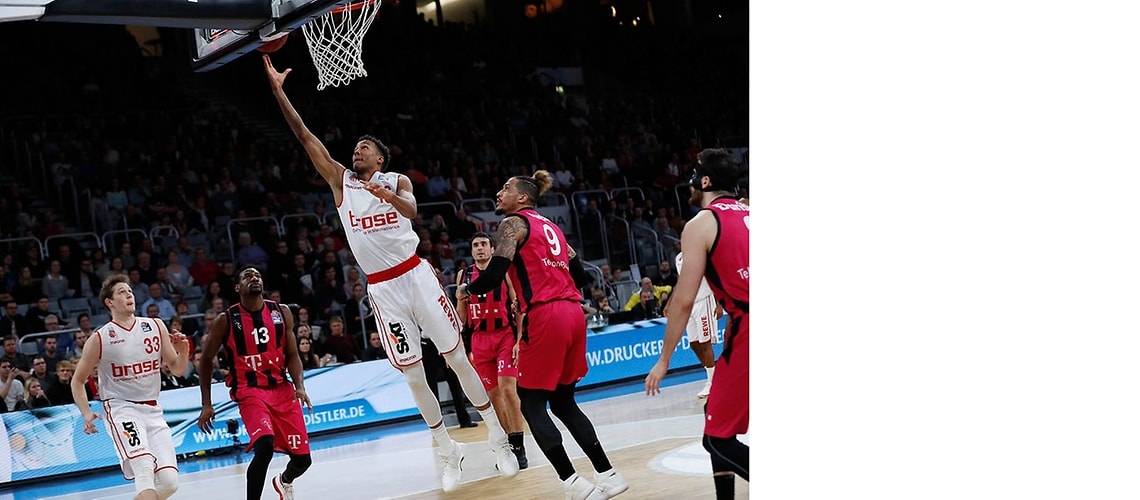 Bamberg, 12-03-2017
In the first of five home games in a row, Brose Bamberg defeated playoff contenders Telekom Baskets Bonn by 83:65. Yet the win came at great cost in terms of personnel.
Although the team of Head Coach Andrea Trinchieri convincingly wrested victory against playoff candidates Telekom Baskets Bonn, the German champions' injury worries continue to mount. The missing Elias Harris and Luka Mitrovic have now been joined by Bryce Taylor and Augustine Rubit, who were both forced to withdraw in the first period. Taylor was injured off the ball and had to be propped up as he was helped off court. Rubit stepped on a Bonn player's foot, twisted his ankle and was taken off as a precaution. The encounter remained tight until midway through the second period. Trinchieri's team forced its opponents into conceding a lot of turnovers thanks to strong defending, but was not able to open up a decisive gap. The first quarter ended 16:14. However, Daniel Hackett, Ricky Hickman and Maodo Lo with five points helped their side produce a run of nine points without reply to go in at half-time leading by 34:26.
After the break, Bamberg was not able to add to its tally for almost six minutes apart from two free throws by Leon Radosevic. Bonn caught up and even took the lead by one point. Yet that was a rallying call for Trinchieri's team. In particular Ricky Hickman turned on the heat. He first recaptured the lead for his side by draining a bucket from beyond the arc and added two more lay-ups and a bonus free throw. The top scorer notched up eight of his 17 points in this key spell and, in tandem with Maodo Lo, ensured that Bamberg went into the final quarter 53:42 in front. From then on Bamberg did not show any weakness and constantly stretched its lead. Patrick Heckmann seized his chance, draining ten out of his total haul of 14 points in the final period. The up-and-coming young center Louis Olinde also demonstrated his credentials with a strong game.
Andrea Trinchieri commented: "That was a problematical game for us. We lost two players who weren't able to continue in the space of a minute. But my team turned in a great performance and defended magnificently. Everyone should be proud of the squad today, since we won against a good side when we were without four players. Maodo Lô, Patrick Heckmann and Louis Olinde were a very big help. The team gave all it could."