Bamberg
Brose Bamberg get the better of Milan despite trailing by a large margin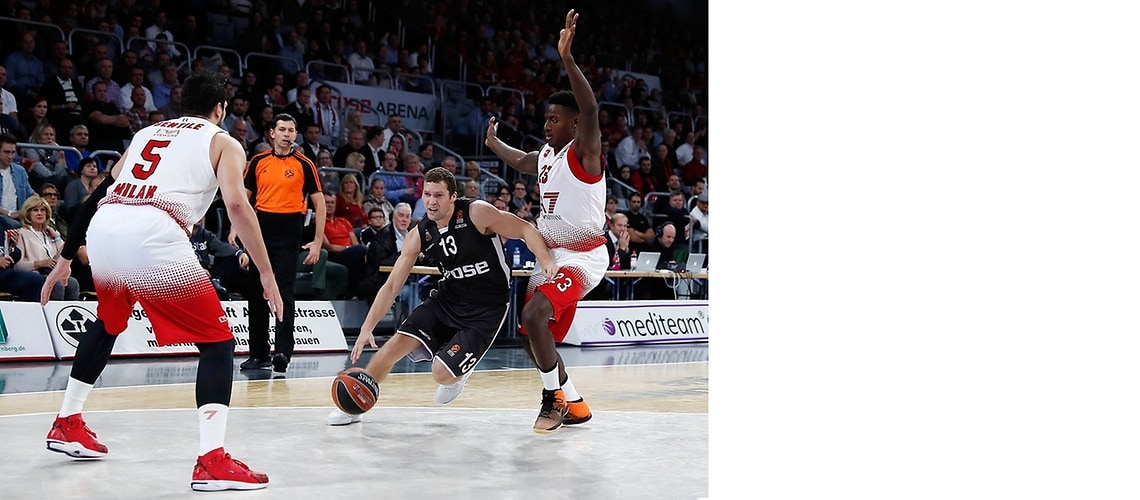 Bamberg, 11-03-2016
Brose Bamberg is finally back to its winning ways in the Euroleague: After three unlucky losses at the death, the German champions were finally able to win a tight encounter and sink Emporio Armani Milan by 106:102. It seems that Bamberg needs nail-biting drama: Trailing by 17 points before the break, the team of Head Coach Andrea Trinchieri then caught up and went 83:77 ahead with 120 seconds left. Yet Milan equalized to take the game into overtime – where Zisis and the outstanding Miller gave their side its second home win in the Euroleague.
Bamberg was without center Vladimir Veremeenko, who suffered a back injury in the encounter with Ludwigsburg. A fast-paced game ensued in the first period, the lead changed hands six times, and no team was able to open up a clear gap. After that, Milan gained the upper hand. The Italian club capitalized clinically on turnovers and gaps in Bamberg's defense. Bamberg's deficit grew from 22:31 to 27:37 and then to as wide as 29:46 one-and-a-half minutes before the break – and Bamberg seemed to have no idea how to crack the visitors' defense. Darius Miller put the now quiet home fans out of their agony after three minutes without a bucket and drained a three, Nicolo Melli exploited a steal to add the next points from downtown, and Miller followed suit to conclude a run of 9 points without reply in the space of 100 seconds. Bamberg went in at half-time trailing by 38:46 – and was back within striking distance of Milan.
Head Coach Andrea Trinchieri also seemed to have found the right words in the dressing room: His players came out with a flourish after the break and in particular put up stiff resistance in defense against the visitors. Miller added the next bucket from outside, the former Milan player Nicolo Melli (15 points) made two lay-ups, and Leon Radosevic (14) produced an impressive three-point play and a slam-dunk to put Bamberg 52:49 in front. Elias Harris stretched the lead to 60:54, but Milan kept in the game thanks to dubious calls by the referees and strong shooting from beyond the arc. Milan produced a 10:1 run to take a 61:64 lead after the third period. Milan then extended the gap and Trinchieri's team needed four minutes again to close the five-point deficit. Daniel Theis put his team back in front with a slam-dunk (77:75), then Melli and Fabien Causeur drained two threes to make it 83:77 with 120 seconds to go. However, Milan slowly caught up thanks to fouls and the many free throws and tied the scores at 91:91 with eight seconds on the clock to take the game into overtime. Top scorer Darius Miller now took things into his own hands, scoring nine of his 27 points in succession to put his side 102:97 in front. However, the American fouled out with 40 seconds remaining. And Milan closed the gap to two again, before Janis Strelnieks (10 points) and Nikos Zisis (13) buried their free throws to seal a 106:102 victory to the jubilation of the home fans.
Andrea Trinchieri commented: "My players showed outstanding mental strength in particular in overtime. We had a great second half, in which we controlled the game. Yet whenever we were able to pull away a little, they were awarded free throws and were able to close the gap. But we were stronger. My players were magnificent. It's not often you see a game like this: 106:102. A game where we were 17 points behind. We didn't do much right in the first half. But we found a way to come back. It was a great game for us."
Brose Bamberg face their next big task in the German league on Sunday, November 6, 2016, when it meets FC Bayern Munich, who are likewise undefeated in the domestic league, for the first time this season. The tip-off in the Brose Arena is at 8:30 p.m.