Oldenbug
Brose Bamberg loses 74:81 in Oldenburg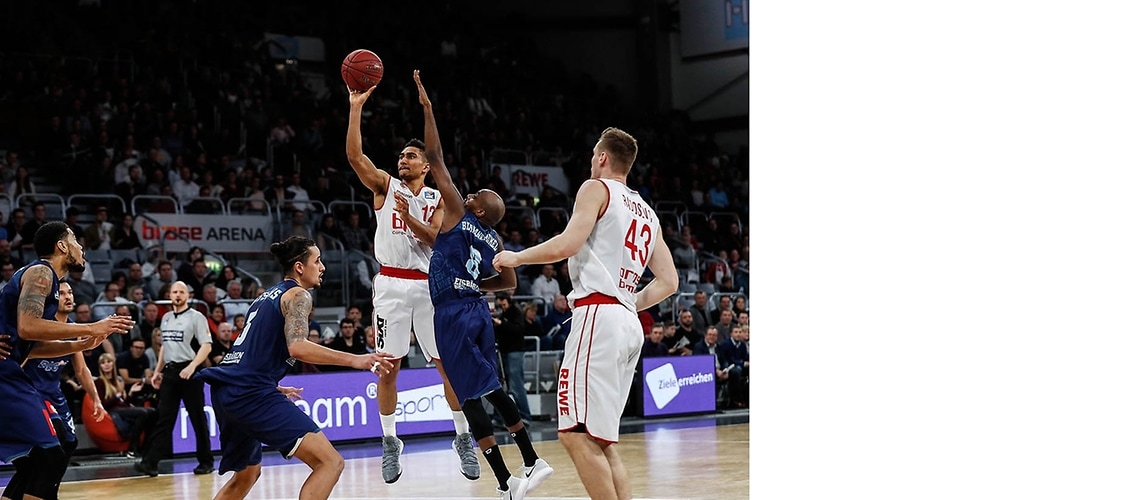 Oldenbug, 12-17-2017
Brose Bamberg suffered a 74:81 defeat on the road at EWE Baskets Oldenburg in the first meeting of the two since last season's final. The team of Head Coach Andrea Trinchieri was not able to stop the "league's oldie" Rickey Paulding (aged 35), conceded 16 turnovers and allowed itself to become disgruntled with the line of the referees, who awarded the club from Lower Saxony 29 free throws and Bamberg just eight.
It was probably due to all the energy they had expended in the past weeks and the strength-sapping comeback against Olympiacos last Thursday – at any rate, the German champions Brose Bamberg got off to a disastrous start against runners-up EWE Baskets Oldenburg. The opposing side from Lower Saxony had parted ways with its top scorer Bryon Allen after three successive defeats. That seemed to motivate Oldenburg and, in particular with nimble handwork in defense, the home side managed to steal the ball four times from Trinchieri's team on the first four attacks. Bamberg trailed 0:7 after just two minutes and, after conceding four more turnovers, lost the first period 17:24. Although Dejan Musli cut the deficit to 27:28 with a slam-dunk, the visitors were not able to take the lead on the next attack, despite snapping up the defensive rebound and having a second attempt to score. With his haul of 19 points before half-time, Rickey Paulding then helped his side surge 29:39 ahead almost single-handedly. However, Maodo Lo reduced the gap for Bamberg with two buckets from downtown and lay-ups in a row to make it 43:44 at the break.
Back on court, Bamberg started off by conceding two turnovers and soon trailed by five points again. Every time Trinchieri's players pressed to tie the encounter, Oldenburg scored, with the result that the champions were still five points behind going into the final period. Bamberg failed to score for three minutes and promptly fell 58:69 behind. Once more, the German champions were faced with a large gap to close. Top scorer Dorell Wright managed to put them in touch again, making it 74:77 with a bucket from outside, two lay-ups and a three with 84 seconds to go, but Oldenburg did not make any mistakes in the final minute and so ran out winners.