Bamberg
Brose Bamberg loses its opening game in the Euroleague against Maccabi Tel Aviv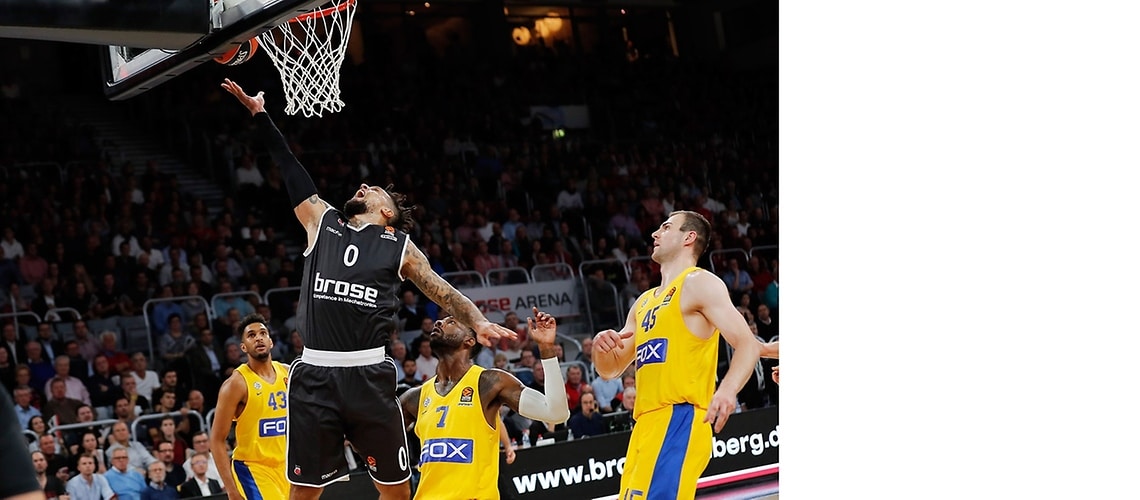 Bamberg, 10-12-2017
Despite the defeat, Brose Bamberg can take heart from the many strong signs and improvements in its play. A five-minute blackout in the final period cost the German champions the chance of winning their Euroleague opener against Maccabi Tel Aviv. As a result, the visitors went away with a 88:71 win, a margin of victory that was too high.
The encounter against the three-times Euroleague champions from Israel started with a shock for the fans. Captain Elias Harris again injured the same knee that caused him to miss half of last season. It is still not certain how long the 28-year-old will be out for. Nevertheless, Brose Bamberg got off to a strong start and captured the lead from the tip-off thanks to Leon Radosevic and Bryce Taylor. New signing Daniel Hackett drove energetically to the basket a number of times and made it 9:4 for the home side. The players of Head Coach Andrea Trinchieri also did a good job in defense and so Bamberger did not concede many points in the first period. Patrick Heckmann was able to give Bamberg its highest lead (20:12) with two free throws. Bamberg maintained its narrow lead initially in the second period, but after Maodo Lo's shot to make it 34:29, nothing came off in attack for the next two minutes. Maccabi struck back with a run of 8 points without reply, after which the strong Leon Radosevic reduced the gap to 36:37 at half-time.
In the third quarter, Bamberg impressed above all with a better performance in defense. Ricky Hickman stole the ball from Maccabi on a number of occasions and Augustine Rubit and Leon Radosevic caused Bamberg's fans to erupt with jubilation with brilliant blocks. In attack, the home side battled its way through against Maccabi's defense. Radosevic kept Bamberg lurking in contention with six of his 12 points, after which top scorer Nikos Zisis recaptured the lead for his side for the first time with his bucket from downtown. Ricky Hickman and Lucca Staiger increased the gap to 59:55 at the end of the period. Augustine Rubit, who turned in an impressive Euroleague debut by scoring ten points, helped his team maintain its lead (63:59). However, after Zisis tied the scores at 67:67, Bamberg found things increasingly difficult. Maccabi's Pierre Jackson took command, draining two tough threes in a row, setting up two in textbook fashion and then burying another two buckets from beyond the arc. The 19:0 run for Maccabi in the space of five minutes produced a collective blackout among Bamberg and its opening game in the Euroleague finally ended with a 67:86 defeat.
Andrea Trinchieri commented: "We did a good job over 33 minutes. Then – for whatever reason – we crumbled and couldn't put up any resistance. Maccabi drained a number of tough shots, while we made some mistakes and so dug ourselves into a hole. I don't want to knock my team for losing by such a large margin."
Bamberg does not have a game in the German league on the weekend, but faces its second encounter in the Euroleague on the road at Panathinaikos Athens on Thursday, October 19 (tip-off: 8 p.m.).