Würzburg
Brose Bamberg loses opening game – Würzburg wins derby for first time ever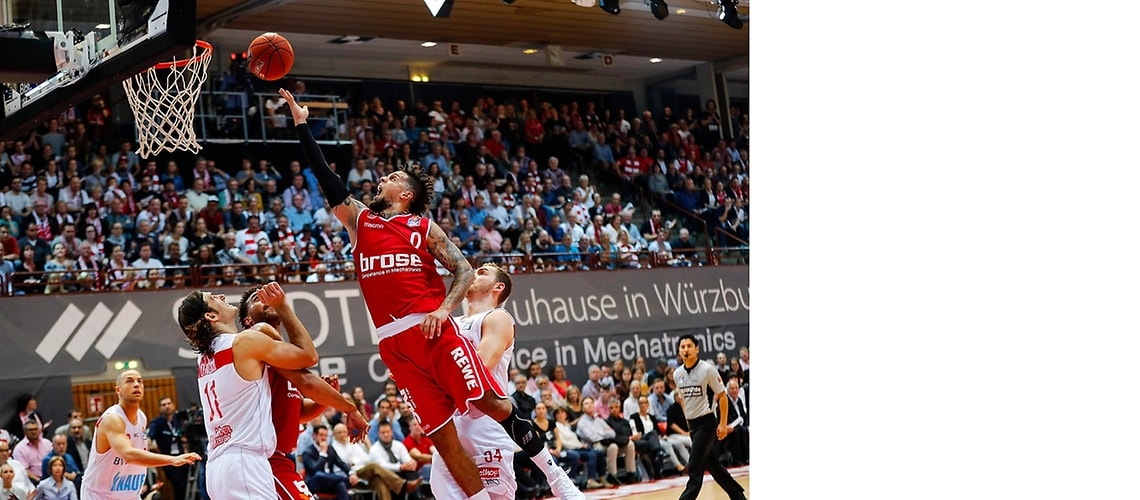 Würzburg, 09-29-2017
Defending champions Brose Bamberg have started the new basketball season with a defeat for the first time since 2009. After the bloodletting in the summer break, where an entire starting five left the club (Daniel Theis, Nicolo Melli, Janis Strelnieks, Fabien Causeur and Darius Miller), the newly formed team of Head Coach Andrea Trinchieri has still not gelled sufficiently and lost on the road to local Lower Franconian rivals s.Oliver Würzburg by 73:76.
Since Trinchieri has eight foreigners in the squad until new signing Bryce Taylor gains German citizenship and only six are allowed to be used per game in the German league, the Italian left out the two newcomers Luka Mitrovic and Ricky Hickman. New signing Daniel Hackett drained his first bucket from beyond the arc for Bamberg after just over two minutes, then Bryce Taylor stretched the lead to 6:0 with a lay-up plus a bonus free throw in the third minute. That was to be Brose Bamberg's highest lead of the game, as Würzburg cast off its weak shooting of the opening four minutes and thwarted Bamberg's efforts in attack with tough defending by the whole team. Although the visitors held on to a narrow lead going into the second period, Würzburg's new signing Robin Benzing then turned the game on its head almost single-handedly. His nine points meant that the German champs trailed by a clear margin for the first time at the break (39:46).
Würzburg remained on top when the two sides came out for the second half, and Benzing gave the home side its highest lead (55:45). Bamberg's top scorer Maodo Lo prevented Würzburg from stretching the gap further with his 16 points. However, the deficit remained nine points until 200 seconds to go. Daniel Hackett rekindled Bamberg's hopes with his third bucket from downtown, while Augustine Rubit and Leon Radosevic cut the gap to 70:72, before Lucca Staiger drained a three to make it 73:74 with 18 seconds left on the clock. However, Robin Benzing was impeccable with his free throws at the other end. Bamberg's final attack ended with Hackett missing a three-pointer, meaning Würzburg celebrated its first win in the Franconian derby in 14 encounters between the two.
Andrea Trinchieri commented: "Congratulations to Würzburg. We had problems throughout the game, but came back again in the fourth quarter. We didn't defend well, especially against Robin Benzing. It was a tough away game and our team is not yet ready. Nevertheless, we ought to have done better at the end."
Brose Bamberg now faces its first home game of the season tomorrow, Tuesday, October 3, 2017, when Gießen 46ers are the visitors (tip-off: 3 p.m.).