Bamberg
Brose Bamberg loses to Ulm – Winning streak of 37 home games came to an end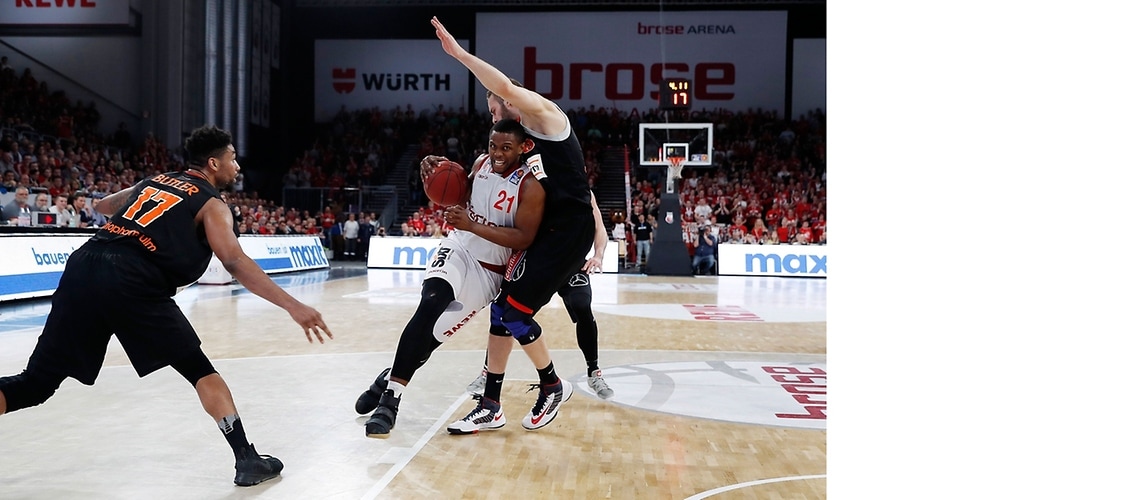 Bamberg, 03-26-2017
For the first time under Head Coach Andrea Trinchieri, Brose Bamberg will not go into the playoffs of the easyCredit German Basketball League as the top team after the regular season. The German champions suffered a 79:84 defeat at home against top-of-the-table ratiopharm Ulm, who is unbeaten this season, meaning they remain in second place and now trail the Swabian club by three wins. Trinchieri's team went 79:78 ahead shortly before the end, but then failed to score any further points.
There were "bad" auspices for the German champs and cup winners going into the game: Whereas ratiopharm Ulm had a week to prepare for the top-of-the-table tussle, Bamberg had two encounters in the Euroleague: at home on Tuesday and away on Thursday. The upshot: Ulm drained two quick buckets from beyond the arc in the first minute and Bamberg, who was again without the injured Janis Strelnieks and Elias Harris, got off to a bad start and trailed by 4:12. And whereas Trinchieri's team had problems in particular with its shots from downtown (one three out of four attempts in the first period and two out of nine up to half-time), Ulm drained buckets from outside with unerring accuracy. Ulm made five out of eight attempted threes in the first period to leave the champions trailing by 17:24. The home side were at least more aggressive and penetrating below the basket in the second period. In particular Daniel Theis came into his own against his former club: The power forward scored 12 out of his total of 16 points in the second quarter and, since Bamberg provoked Ulm into conceding a number of turnovers, Theis was able to put his side ahead for the first time after 15 minutes (29:28). Nevertheless, Ulm went in at half-time with a four-point lead (41:45) thanks to Raymar Morgan, the league's top scorer, who woke up and made ten of his 24 points in the space of a few minutes.
After the break, Bamberg's defense allowed Ulm to snap up too many rebounds, which the visitors capitalized on clinically to leave Bamberg trailing by 47:54 and then 54:61. Yet Bamberg appeared to turn the game around within 80 seconds: A slam-dunk by Daniel Theis, a three by Nicolo Melli, a block by Jerel McNeal against Per Günther, an unsporting foul by Per Günther on Jerel McNeal, two free throws from McNeal and a lay-up by Nicolo Melli helped put the home side 63:61 in front – the momentum seemed to be with Bamberg with one minute left in the third period. However, McNeal conceded possession twice on the next two attacks, which Ulm gratefully accepted to drain two further threes 63:69). Spurred on by top scorers Nicolo Melli and Darius Miller (17 points apiece), the reigning champs tied the encounter at 73:73. With four minutes to go, Darius Miller made a lay-up and bonus free throw to put Bamberg 79:78 ahead. Yet whereas the home side lost possession in attack twice in succession and missed four more buckets from downtown, Ulm scored dependably in crunch time to win 79:84 and so end Bamberg's run of 37 consecutive German League victories in the Brose Arena.
Andrea Trinchieri commented: "Ulm won a real battle today and was simply better. It's now favorite to take the title. We didn't play well, were ponderous and didn't move the ball fast enough. But we tried everything, we couldn't do any more. It's simply difficult to play against the best two German teams and three clubs in the Euroleague in the space of ten days. Unfortunately, the schedule doesn't take that into consideration; that would be different in Spain or Turkey. We were also missing players, but Ulm was better. We accept that and will keep pressing on."
Bamberg now faces Darussafaka Dogus Istanbul at home on the penultimate matchday of the Euroleague on Thursday, March 30, 2017. The game in the Brose Arena tips off at 8:45 p.m.