Bamberg
Brose Bamberg miss victory against Belgrade on the last shot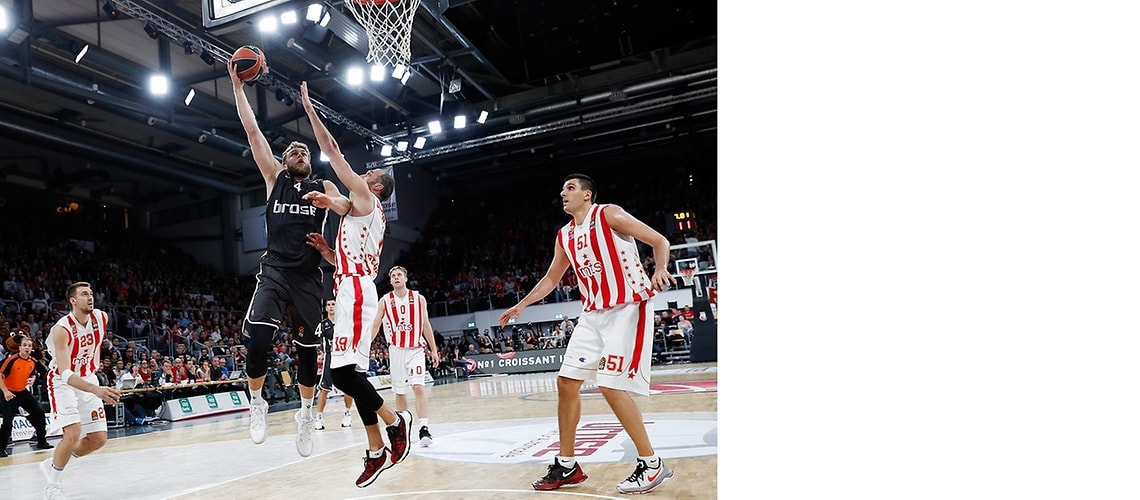 Bamberg, 11-15-2016
Yet again on the final shot! The German champions Brose Bamberg lost at home in the Euroleague against Red Star Belgrade by 78:79. For the fourth time in this season's competition, Bamberg had the chance to win with the last shot, but for the fourth time the team of Head Coach Andrea Trinchieri failed to score. This time it was Darius Miller who was dogged by bad luck: While the 26-year-old was making a shot from close distance, two Belgrade players defended against him extremely toughly. However, no foul was called.
The German champs, who have two wins and five losses so far, are now under pressure in the upcoming games in the Euroleague – only the first eight teams qualify for the playoffs and Trinchieri's team is thirteenth in the table, 2 wins behind 8th spot. Yet Bamberg got off to a strong start: Trinchieri played Lucca Staiger in the starting five for the first time and the sharpshooter repaid his trust right away with two buckets from beyond the arc (6:0), after which Fabien Causeur stole possession and stretched the gap to 8:1. However, the home side failed to increase its lead further in the first four minutes. Some open shots missed their mark and then Belgrade got into its stride and caught up. The visitors soon wiped out Bamberg's 14:11 lead after the first period and in particular capitalized on their tough defending, forcing Trinchieri's players to concede six turnovers and exploiting them with quick points on fast breaks. Moreover, Belgrade benefited from the referees' line: Whereas the home side's actions in defense were often penalized (12 free throws for Belgrade), Trinchieri's players were awarded a meager one free throw. Darius Miller was able to reduce the 11-point deficit (27:38) to single digits on the half-time buzzer (29:38).
After the break, Bamberg came to terms better with Red Star's defense, displayed its excellent passing game and so created space for open shots. In particular, Nikos Zisis passed the ball strongly, finding a free-standing teammate four times in succession: first Leon Radosevic for a slam-dunk, then Darius Miller for a three, then Nicolo Melli, who drained three straight buckets from outside and crowned that with a lay-up to put his side 47:45 in front. The top scorer from Italy notched up 11 of his 16 points in the space of two-and-a-half minutes. Nikos Zisis increased the lead to 52:47, but the home side was not able to pull further ahead. Red Star kept in touch and even equalized on several occasions. With five minutes to go, Lucca Staiger drained his third bucket from downtown to make it 71:66, but Bamberg committed too many mistakes in defense and Red Star turned the game around with three attacks in a row (71:72). Darius Miller (14 points) struck back with a three and Nikos Zisis also put the German champs back in front twice after Belgrade tied the scores. However, after Zisis' last lay-up to make it 78:77, the home side was caught napping at the back and the completely free-standing Charles Jenkins put the visitors 79:78 ahead with 24 seconds on the clock. Bamberg had the last shot and Darius Miller made a solo effort against several opposing players, but the referees did not call a foul: 78:79 and the game was over.
Andrea Trinchieri commented: "I stand by my players. I'm proud at how they fought in this tough game. But I don't know what more we have to do, what more my players have to do, to be awarded fouls. I've looked at the replay of the final attack. And to tell the truth, I don't know what to say. We deserved a different ending. Of course, we have to stop making three, four mistakes that were important."
The German champions do not have much of a breather: Trinchieri's team travels to Spain for its eighth Euroleague game against Baskonia Vitoria Gasteiz on Thursday, November 17, 2016 (tip-off: 8:30 p.m.).