Bamberg
Brose Bamberg narrowly loses first quarter-final encounter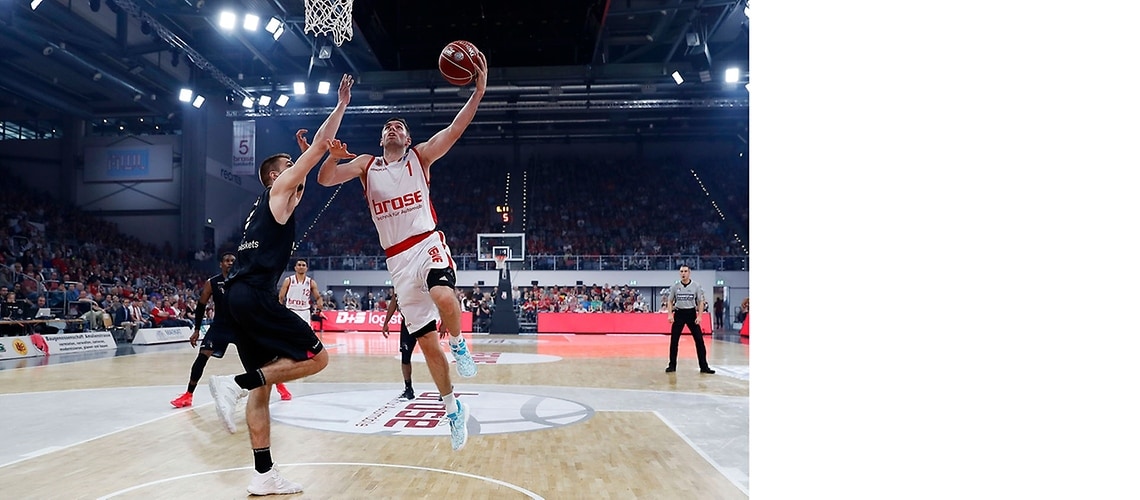 Bamberg, 05-06-2017
Reigning champions and cup winners Brose Bamberg did not live up to their role as favorites in the first playoff quarter-final game against Telekom Baskets. Careless defending meant that the home side conceded a record number of points in a playoff game under Head Coach Andrea Trinchieri and deservedly lost by 92:93.
The visitors from Bonn played with more intensity than Bamberg over the 40 minutes and clearly demonstrated their desire to make up for their recent losing streak of five defeats from six games. In particular, they revealed the weaknesses in Bamberg's defense with accurate shooting from beyond the arc (11 out of 22 attempted threes hit the mark). Moreover, the club from the Rhineland was far more concentrated in possession than in the regular season: Whereas Telekom Baskets conceded an average of 14.5 turnovers per game back then, that figure was just six in the first playoff encounter. After losing possession four times, Bamberg consequently trailed by 22:25 at the end of the first period. It was Jerel McNeal, standing in for the still injured Nikos Zisis, who finally injected some verve into Bamberg's offense. Eight points from the American put his side in front for the first time (31:28). However, Trinchieri's team missed six free throws up to half-time and so went in 46:47 behind.
Bamberg had its best spell after the break: It's defense stood strong and prevented Bonn from scoring for three-and-a-half minutes. A 10:0 run, thanks to top scorer Nicolo Melli (21 points) and Janis Strelnieks (17), enabled Bamberg to sneak 56:47 ahead. However, the home side was not able to stretch its gap – on the contrary: Bonn fired its way into the lead with six threes up to the end of the period, whereas Bamberg was too passive in defense.
Daniel Theis (14 points) recaptured the lead for his side with six quick points, but Bonn's playmaker Josh Mayo, who was on court for all 40 minutes, struck back with two more buckets from downtown. And it was precisely in that department that Bamberg showed weakness in the final period: Miller, Melli, McNeal and Causeur shot eight times from outside in the final ten minutes, but not a single one dropped. In contrast, Bonn kept on adding points to lead 92:93 with twelve seconds left on the clock. Fabien Causeur (11 points) played a textbook pick and roll with Daniel Theis, turned around two Bonn players and passed precisely to Theis, who was standing free under the basket. However, the 25-year-old did not gather the ball and so Bamberg's defeat was sealed.
Andrea Trinchieri commented: "The most important thing in a playoff series is to get off to a good start to it – and we didn't manage to do that. When you concede 93 points at home, it means our focus in defense wasn't right. We lost the game in defense and when it came to 50:50 balls. Bonn won loose balls eleven times and so scored. We're well below what we're capable of in defense and in terms of intensity. The very first thing we now need to do is understand what happened – then we can look for solutions."
Brose Bamberg can put the defeat behind it on Wednesday, May 10, 2017, in the second quarter-final game, this time at Telekom Baskets Bonn (tip-off: 8:30 p.m.).