Bamberg
Brose Motorsport end-of-season ceremony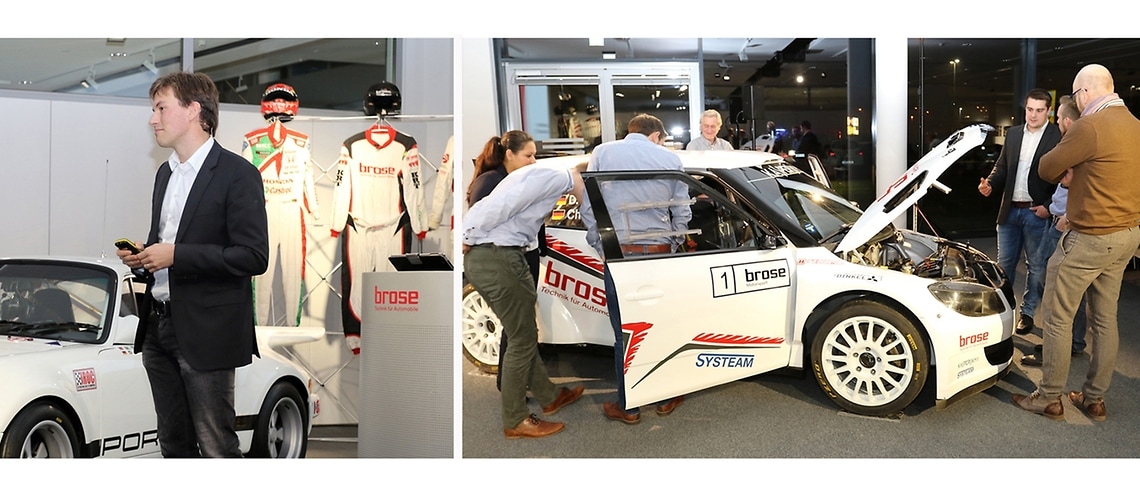 Bamberg, 12-18-2016
The Brose Motorsport end-of-season ceremony on 18 December attracted 90 enthusiasts to Bamberg. Among those present were the racing drivers Tiago Monteiro, Dominik Dinkel, Christian Engelhart and Michael Stoschek together with their teams and interested Brose staff.
Before the sportsmen gave short presentations on their 2016 races, Tobias Kerbsties and Svenja Maier introduced the Coburg Formula Student Team CAT Racing. The team took fourth place in the 2016 world rankings with the design of its C-16 Caracal racing car.
Tiago Monteiro, who came third in the FIA World Touring Car Championship in 2016, emphasized the importance of a strong team and the background support from sponsors and family. The 40-year-old Portuguese also assured everyone that he's not ready to retire yet – his role model is Yvan Muller, who is 7 years older and a record driver in the series.
Dominik Dinkel finished the year in third place in the German Rally Championship. The 24-year-old revealed his ambitious goal for the upcoming season: "We want to win the German Rally Championship title for Brose Motorsport." Dinkel will compete for the title together with his co-driver Christina Kohl in the Skoda Fabia R5.
Christian Engelhart took a second place in the Porsche Carrera Cup this season and was overall seventh in the ADAC GT Master and Porsche Supercup. He competed in an extraordinary number of races this year – 42!
Michael Stoschek concluded this year's event with a report on his rally season. He used slides to explain the technical details of his historic vehicles to the audience.