Nürburg
Christian Engelhart heads into the season finale at full throttle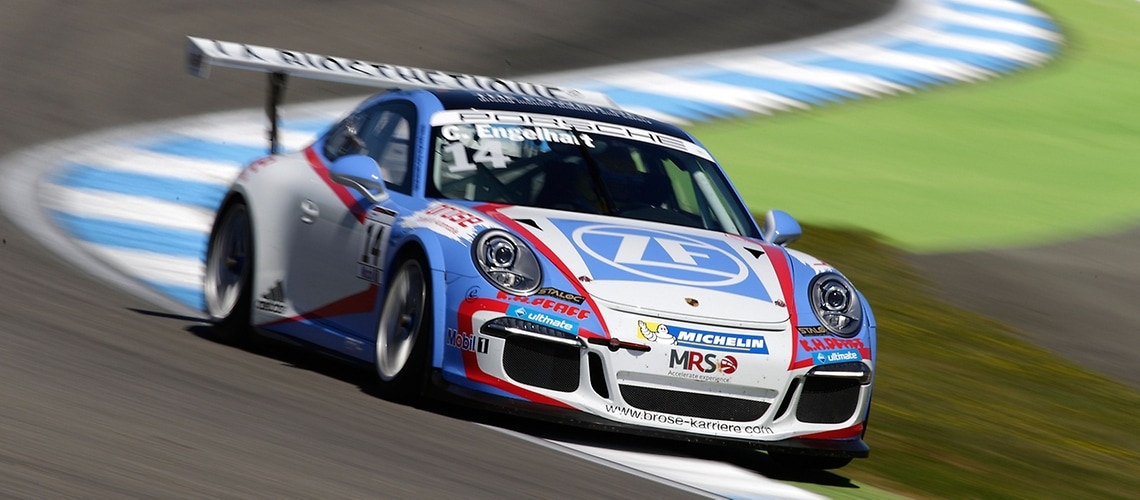 Nürburg, 09-14-2016
A rich haul on the Nürburgring last weekend means that the gap between Christian Engelhart and the championship leader has melted to twelve points. Consequently, there will be a big title showdown at the finale of the Porsche Carrera Cup in mid-October.
30 points and so a further top result this season in the Porsche Carrera Cup have put the Bavarian pilot in a promising position as the title tussle moves into the final straight with one weekend of racing left.
"I'm now just twelve points behind. That's exactly the same number of points as I was able to catch up by last weekend. So it's certainly doable. That's my goal and you can bet I'll go full out on the attack."
On the Nürburgring, Christian was able to push from the outset and set the pace in excellent weather – summer conditions that were unusual for the Eifel. As always in the Carrera Cup, the weekend was a tight affair: In qualifying, just 0.076 seconds separated the first 7 pilots and Christian captured 2nd on the grid, a mere 0.008 seconds behind pole position. In his Porsche GT3 Cup, the MRS pilot translated that directly into points by finishing second in race one to capture his eleventh place on the rostrum this season. Christian, who is in second spot in the overall standings, also picked up a double-digit haul in race two on the Sunday. He crossed the line in fifth, once again in front of his main rival for the title.
The gap going into the final weekend could hardly be closer. And so the tension is mounting for the last two races of the year in Hockenheim – but not with Christian. "Absolutely not. Hockenheim is my track and I feel very comfortable here. I have excellent memories of the season opener last year, when I captured the maximum number of points with two wins. That's precisely my goal again this time around."