Sankt Wendel
Dominik Dinkel: Magnificent start to the season in Saarland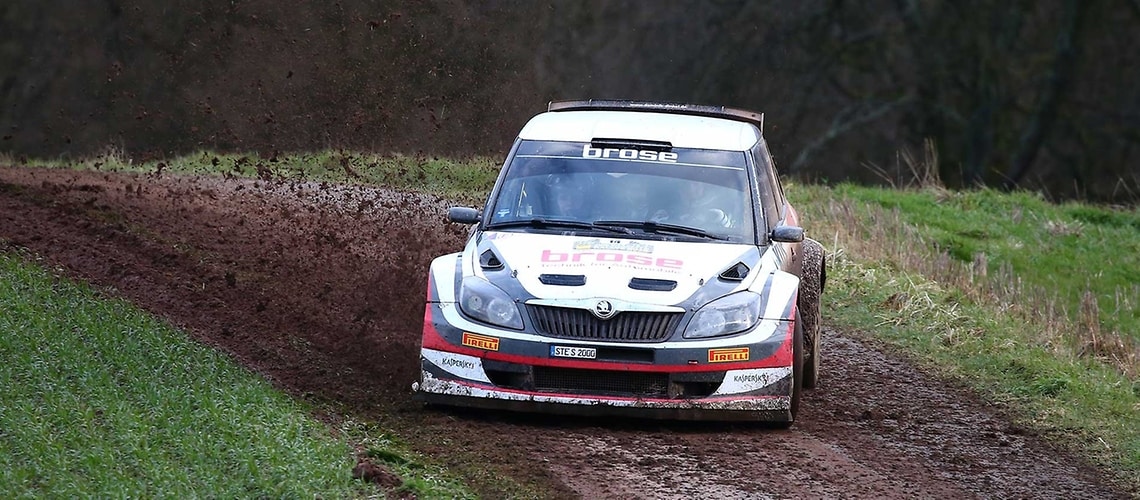 Sankt Wendel , 03-05-2016
The first battle of the new rally season was staged in and around Sankt Wendel in Saarland last weekend in winter temperatures and conditions on the route.
Dominik Dinkel and Christina Kohl lined up in the new Skoda Fabia S2000. The heavy snow meant that the snow-covered and icy roads were hardly passable. The duo clocked the seventh-best time in the overall standings and so kept the gap to the leaders down to just 11.3 seconds.
On the Saturday morning, most of the eleven trials were under snow and the route was greasy and slippery. Dinkel started off cautiously; he had a clearly defined goal for the weekend: "To finish at all costs," said Dinkel. On the icy roads, a mere 10 seconds separated the top 15 in the overall standings. Dinkel/Kohl made a mark for the first time by recording the fifth-fastest time overall. They firmly entrenched themselves near to the podium places by clocking constant times among the top eight. And they almost managed to pull off the next sensation on the second loop in "Roschberg," posting the second-best time, just 0.3 seconds behind the top mark.
Dinkel fought his first duel halfway through the trial. Enveloped by the two experienced Gassners in their Mitsubishi Lancer EVO, he fought for every second. It was an evenly poised tussle. The fourth-best time overall meant Dinkel/Kohl moved up to third. A place on the podium was now within grasp and the pursuer was no less than Hermann Gassner senior. However, Dominik Dinkel kept his cool and was able to stay ahead in all subsequent trials.
The penultimate trial on the town circuit in Sankt Wendel would decide the outcome. Dinkel posted the second-best time again, giving him a cushion of 24.7 seconds going into the final and decisive trial. Dinkel/Kohl clocked the fourth-fastest time in the final in "Bosenberg" to capture third place overall – a sensational result for the first outing in the new Skoda Fabia S 2000 and the perfect start to the new rally season.
Planning is now already proceeding apace for the second race at the ADAC Vogelsberg Rally in Hesse on April 15-16.